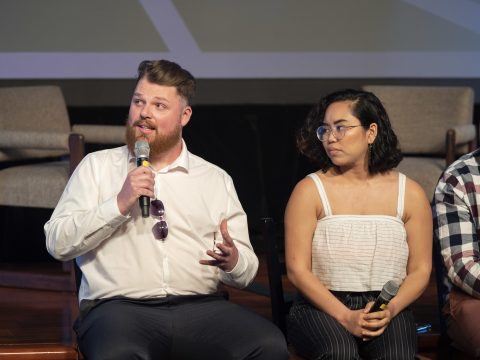 ANDREWS UNIVERSITY—Several students from Andrews University received awards for their films at the SONScreen Film Festival held April 4–6 at La Sierra University in Riverside, Calif.
Joy Ngugi and Denae Keizs received the award for Best Art/Experimental for their film "Twin Cities, Bridge the Gap."  Their film was a visual comparison of the twin cities in our region—Benton Harbor and St. Joseph.  
Stephen Allcock received an Honorable Mention in the Documentary competition for his film "Child of Apartheid," which is the story about a charismatic young architect trying to unravel the urban designs of the Apartheid regime in South Africa that forced segregation and continues to destabilize communities today.  
Film professor and chair of the Department of Visual Art, Communication and Design, Paul Kim, said, "I'm particularly pleased with the art/experimental win, because that's such an important area of exploration for us in our film program.  We take seriously our study of film history and the cinematic form, and as a bachelor of fine art degree granting program, we strongly encourage our students in the study of image and visual expression."  
Joy Ngugi, senior Film major, said that for her and Denae Keizs, also a senior Film major, attending the film festival was simply "the icing on the cake." She said the biggest highlight of sharing their film with a larger audience was "seeing the impact our unique voices can have and being able to visually express an issue we sincerely care about." 
Stephen Allcock, a graduate of the Andrews Documentary Film program, said it was privilege to share a film on Wandile Mthiyane's incredible and inspiring story. "It was very rewarding to see how deeply it resonated with so many individuals at SONscreen, who connected with the concepts presented through "Child of Apartheid," especially the search for home. This search was understood deeply by fellow peers who share the experience of growing up as a pastor/missionary/military kid and understand the third culture mentality." Allcock, who is now based in the U.K. but was on hand to receive the award, also said he appreciated the conversation he was able to have as a result of taking part in the film festival.
"I want to thank Julio Muñoz (NAD associate director of Communication) and his supporters for giving young Christian filmmakers a voice and platform to share such powerful stories and personal expression through film." 
Paul Kim is encouraged by the strong showing of the film students who are willing to tackle complex narratives. Kim said, "What I'm most proud of is how these students have built on the core value of our film program—the careful interweaving of important social issues into their creative and narrative exploration.  Almost all of our student films aim toward that goal, and many of them succeed in moving people toward a better understanding of the complexities of the human condition.  
The SONScreen film festival is now in its 17th year. SONScreen was created by the North American Division of Seventh-day Adventists to nurture Christian filmmakers in their craft, career development, and spiritual lives.