Suicide was the second leading cause of death in ages 10‒24 based on 2017 research from the NIHM.[i] In other words, over 6,700 young people committed suicide in 2017. One young lady, at the age of ten, faced similar feelings but overcame through the love of her mother and understanding that she was made in God's image.
Kenyan-American Naomi Morin is a single mother raising Anah Ambuchi in the metropolis of Chicago. While attending school in the third grade, Anah was bullied because of her beautiful chocolate skin. However, the bullying escalated in the fourth grade. Each day she returned home with heavy heart and derogatory lines repeating in her mind. Naomi comforted Anah, relating her own struggle as a child to recognize that God had made her beautiful. Even so, Naomi was deeply troubled and often sought her church friends at Hyde Park Church to pray for her daughter.
Naomi recounted, "Everyone was praying; our Wednesday Bible study was praying; friends and family were praying. It was not easy."
As Anah began to understand that God had made her beautiful, that He had a purpose for her life, she also realized the influence of bullying on suicide rates among her peers. She wanted to make a difference. She wanted everyone to know that they are made beautiful by God. Through her acting and dance classes, she was inspired to create a short film that would motivate other ten and eleven-year-olds, like herself, to take courage.
One day, when Anah told her mom of her plans, Naomi's first response was, "You want to do what?" Naomi admits she was not too open to the idea at first, but God made it clear that He was the one leading Anah to share what He had done in her life.  Little did either of them realize where the film would take her. Anah finished writing, producing and directing the film, "Made in His Image," when she was eleven.
The professional team Anah found to film the scenes had only worked on action films. Yet, they were excited to work on her project. Naomi was quick to mention that this was a kid's film, and they had no money. The team assured them not to worry about the money. And God provided once again. But the most significant door was one of faith for Anah. She shared, "What God was doing for me when I was making the film, God was helping me to get my faith back. When I was bullied, I began to lose my faith in God." Then, she began to see God's providence in every step of the film production.  
Originally, the purpose of the film was to have it shown in different schools, although only two schools actually participated. In a charter school, the students were eager to ask her questions after watching the film. Anah now had a platform to bring awareness of bullying and, more importantly, God who helped her to overcome. The second school had not watched the video ahead of time and was angry with Naomi and Anah that God was mentioned in the film. However, this was just before they were to show the film at the assembly where all the students were seated. The film was shown, but Anah was not able to share as openly as at the previous school.
Although many schools did not take the opportunity to show the film, many organizations did and invited students her age. Anah was then able to answer questions and share from her heart how God had helped her overcome. The rejection by the schools led to the organizations featuring the film. Naomi admits that God used this as a catapult to get the film into the public eye, "It is not being shared the way we wanted it to be shared, ideally in the schools, but it is a reminder to us that God's ways are not our ways. This is much bigger than us."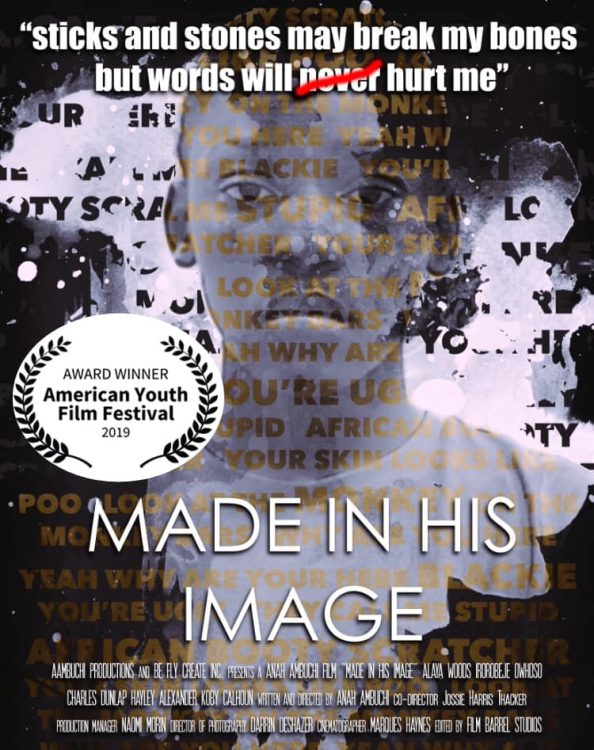 In 2019, "Made in His Image" was nominated for awards at the International Film Festival in Cannes, France; the African Film Festival in Dallas; and the American Youth Film Festival in Atlanta. Since Anah is homeschooled, there has been some flexibility in her schedule, but Naomi is employed full-time. The finances for these trips and the production of the film was not cheap. There were times that Naomi prayerfully asked if God was leading and worried about how these items would be paid. God answered Naomi's question, "I would not open this door for you if I had not made a way for you." Therefore, every step has been an act of trusting God. God impressed hearts of individuals unknown to them to financially support the film and the travel to the awards ceremonies.
There are times Naomi had concerns regarding how her daughter's creative mind would be viewed in her Adventist church family. "Not everyone is meant to be a pastor, or elder, or Sabbath school leader. All of us are given a talent or gift from God. The gift that God has given Anah is public speaking and creativity. God using it in her generation to do things I would have never imagined."
Anah's final words to those Adventists who may be facing bullying. "You are fearfully and wonderfully made in God's image."
Anah is still a growing young lady who loves her Pathfinder club, church family, and finding creative ways to share God's message. Naomi is a faithful mother who loves God and seeks to raise Anah to truly know God.
You can learn more about Anah and her film at www.anahambuchi.com
Alanna Rodriguez is a Michigan-based freelance writer.