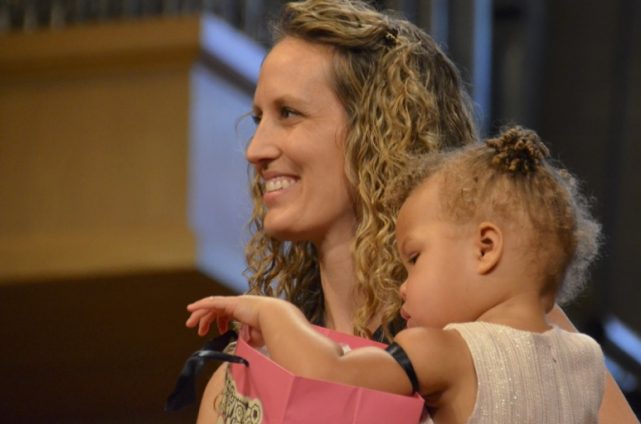 Lindsey Pratt was introduced to the Pioneer Church congregation last Sabbath as the newest member of the pastoral team. As the first female Youth pastor in Pioneer's 60-year history, we thought it was fitting to help you get to know her a little more. Youth Ministry is a critical area, especially in light of the intractable, universal problem of large swaths of youth leaving the church.
During a thirty-minute conversation with Lindsey, this fact jumped out at me: She loves the church and is fully engaged in ministering to young people. She's so engrossed in ministry; I caught her as she was knee-deep in planning the nighttime programming for the International Camporee to be held in Wisconsin, just four short months from now.
So, how did her journey lead her to the campus of Andrews University?
She grew up in Central California, at the foothills of Yosemite National Park. It wasn't until her freshman year of high school that she discovered God was very real. It was a realization that occurred when she began reading the Bible. "It was exciting to know that God was real and active in my life," she says.
As God became real in her mind, Lindsey became active. She spent a year at Pacific Union College, then enrolled at the Mission College of Evangelism in Oregon. Before long, the leadership team at Central California Conference, under the leadership of Jerry Page, drafted her and a few others to add a youthful voice to its evangelism team. "We traveled around to churches, did weeks of prayer, power weekends and trained youth leaders," she said of the 2005–2006 period. She then served as Youth pastor of the Oakhurst Church from 2007–2009.
The call to return to school led her to Andrews University in January 2010 where the Theology major wasn't content to rest on her laurels. She took on the challenge of organizing busloads of students to conduct Sabbath afternoon outreach at the Harbor of Hope Church.
After graduating in 2012, Lindsey was hired by the Central California Conference to work with then Youth director, Elden Ramirez, as their Youth Evangelism Team director. But, two years later, God called her back to Andrews University to study at the Seminary. She completed her Master of Divinity degree in 2017.
Mentors have played a huge role in Lindsey's life. One of her first, Ellen Park, was the associate Youth pastor at the Sonora Church. "She was open and honest about God, and challenged me to find out about God," she says.
Another mentor is Steve Hamilton, who pastors in Paradise, California, a community destroyed by recent wild fires. Hamilton hired her out of high school and had led the youth evangelism team. "He's a phenomenal pastor," she said.
These are just some of the people who have "poured into — and still pour into" her life. "I long to do that for the generations coming," she said.
"They gave me opportunities to get involved and gave me opportunities to do big things and make decisions and give Bible studies with my peers; believing in me that I could do it."
There's one person she's already pouring her life into, and that's her adopted daughter Ellie. Ellie, who turned two recently, has given her a fresher perspective of God. "Bringing people to Christ and mothering have been the two best things in my life!" says Lindsey, beaming proudly. As if the life of a seminary student was not busy enough, Lindsey embarked on the adoption process during her seminary studies, thinking it would be finalized after graduation. However, it took just six month! She knows this was God's timing. "She's the perfect daughter for me!"
As a single mother, the 32-year-old is grateful for community and lessons she's learning in God's unending love. Ellie is teaching her how to love deeply and grow patience. She says, "If it's been a long day or when I'm tired, you still have the ability to give."
Even though Lindsey is still several months from officially starting her role at Pioneer, she's beginning to think about the new chapter. One area of special focus will be ministry to public school students; she plans to reach out to parents for help. "We're seeing from studies that parent involvement, that the home life, is even more important than school, church, or anything else. If the kids don't have that, we need to figure out, as a church community, how to bolster support around kids who don't have that in life."
In the meantime, she's looking forward to September. "I'm excited to join the team at PMC and get to know the community a little more," she says.
Photo credit: Lynell DeWind