More than 300 pathfinders from the Lake Union gathered Sabbath, March 16 on the campus of Andrews University for the union-level Pathfinder Bible Experience.
The day began with staff and families taking part in an interactive Sabbath school led by Illinois Youth Director Michael Campos and his team.  The participants made a 40-foot prayer chain and several other fun learning activities.
Lake Union Youth Director, Ron Whitehead shared a few Club Ministry stories from around the Lake Union for the beginning of church service, while Union Pathfinder Bible Experience coordinator, Craig Harris talked about the importance of applying the knowledge from the book of Luke into their daily lives.
Over 500 guest enjoyed two meals loving prepared and served by Area Coordinators, Master Guides and Teen Leaders in Training.  (It was a lot of work!)
The teams finishing within 90% of the top score qualify to go to the final Division-level PBE to be held in Rockford Ill on April 27.
After the PBE testing, Whitehead shared a few stories about the South American Division Pathfinder Camporee and then some exciting things happening for the upcoming Chosen camporee in Oshkosh.
Scottie Baker, PhD, from Andrews University also shared pictures and cool items of places he visited in Israel that the pathfinders studied this year in the book of Luke.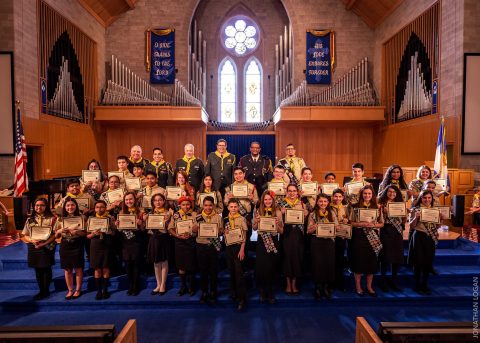 Here are team placements:
| | | | |
| --- | --- | --- | --- |
| 1 | Wisconsin | Madison Mustangs | 1st |
| 2 | Wisconsin | Milwaukee Panthers | 1st |
| 3 | Wisconsin | Monroe Trail Blazers | 1st |
| 4 |   |   |   |
| 5 | Illinois | Ambassadors | 2nd |
| 6 | Illinois | Angeles Guardianes | 3rd |
| 7 | Illinois | Cahokians | 3rd |
| 8 | Illinois | Challengers - Chosen | 2nd |
| 9 | Illinois | Challengers - Eye of the Needle | 2nd |
| 10 | Illinois | Challengers - The Good | 3rd |
| 11 | Illinois | Creyentes De Jesus | 2nd |
| 12 | Illinois | Eben-Ezer | 3rd |
| 13 | Illinois | Maranatha | 3rd |
| 14 |   |   |   |
| 15 | Lake Region | Shiloh Trailblazers | 1st |
| 16 |   |   |   |
| 17 | Indiana | Cicero Cherokees | 2nd |
| 18 | Indiana | Elkhart Eagles | 3rd |
| 19 | Indiana | Fort Wayne Hispanic Maranatha | 1st |
| 20 | Indiana | Indianapolis Spanish Falcons | 2nd |
| 21 |   |   |   |
| 22 | Michigan | Ann Arbor Anchors - Luke | 1st |
| 23 | Michigan | Ann Arbor Anchors - Theophilus | 1st |
| 24 | Michigan | Belgreen Beavers | 1st |
| 25 | Michigan | Berrien Springs Golden Eagles | 1st |
| 26 | Michigan | Eau Claire Critters | 1st |
| 27 | Michigan | Holland Huskies | 1st |
| 28 | Michigan | Lansing Capitals - Ephesus | 1st |
| 29 | Michigan | Lansing Capitals - Philadelphia | 1st |
| 30 | Michigan | Lansing Capitals - Thyatira | 1st |
| 31 | Michigan | Maranatha Lakers | 1st |
| 32 | Michigan | Mid-Michigan Messengers | 1st |
| 33 | Michigan | Stevensville Challengers - A | 1st |
| 34 | Michigan | Stevensville Challengers - B | 1st |
| 35 | Michigan | Wyoming Wranglers | 1st |