The Lansing Community Services Center was recognized for its outstanding services at the Delta Township Community Awards event, held October 23 at the Crown Plaza Lansing West.
Lansing ACS was presented with the Community Organization of the Year Award. The Center's director, Snowrene Mitchell, says that she was humbled by the recognition for doing what they feel called to do.
"We pray every morning that we can show the love of Jesus to others," said Mitchell.
In response to the news, Chelli Ringstaff, Michigan Conference Adventist Community Services director remarked, "I am so thankful for Lansing Adventist Community Service Center for being recognized for continuing the work that Jesus began while He was on the earth."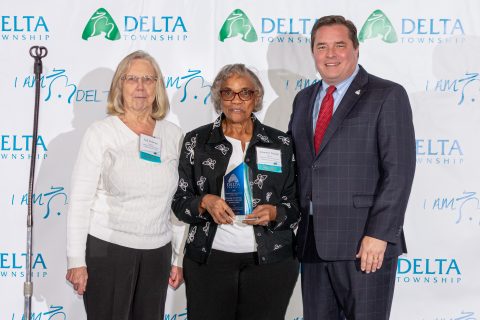 Since the early 1970s, the volunteers at the Center have faithfully served residents, most of whom are referred by area churches, the courts and other government agencies.
In 2018, there were 4,135 volunteer hours from 21 volunteers where the Lansing ACS organized and ran a clothing bank, food pantry, gave medical rides, created and delivered Thanksgiving food baskets, conducted adult learning seminars, and conducted Quit Nicotine clinics. Not only are adult volunteers doing much of this work, many youth are also engaged in these projects, exposing them to the gift of caring and sharing.
Last year, the organization provided 3,286 households with food assistance, distributed 30,352 food items, assisted 2,758 people with clothing needs, and provided 969 bedding and household items to those in need. In total for one year, the Center has donated nearly $40,000 in volunteer hours to help the community.
'The Need is Great'
They largely subsist on donations and, right now, there's an urgent need for children's clothing for boys and girls, ages five to 10. Already this year, they had 25 requests for layettes for newborns. Another area of need is for men's apparel. The men's half-way house in downtown Lansing routinely refers residents to the Center for help.
Mitchell, a retired civil servant, wishes they could do more. Many people coming through their doors are barely surviving. "People don't have anything!" she said ruefully. At the same time, she's grateful for kind donors in the community who keep the racks and pantry stocked with items.
Clients tell her that they appreciate that, when they come to the Center, they are made to feel welcome and not feel badly about asking for help. "We want people to experience the love of Jesus, that we care about them and want to help them," said Mitchell, who has been volunteering with the Center since she retired from her civil service job in 1997.
While grateful for this newfound recognition, Mitchell acknowledges that it comes with a greater commitment. "This [award] means we will work even harder to serve the community."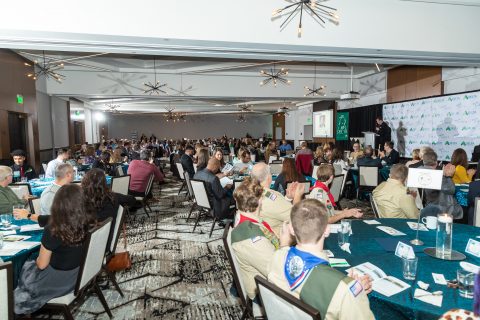 Lansing ACS was nominated for the Community Organization of the Year award, alongside three other groups: Boy Scout Troop 111, Canines for Change and the Lansing Model Railroad Club.