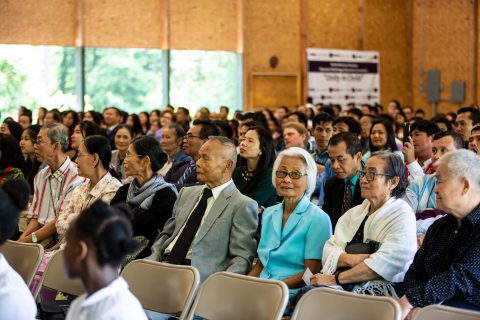 Last weekend, almost 600 people from around the U.S. gathered for the bi-annual North American Division's Myanmar Multi-lingual Convention, held at Timber Ridge Camp in Spencer, Ind. Organized by Indiana pastor and church planter, Samuel Ngala, speakers included: John Kitevski, evangelist, elder and one of the leaders at Gateway Congregations in Melbourne, Australia; Tony Anobile, North American Division Multilingual Ministries; Rahel Wells, Andrews University Religion professor; Bill Wells and Julia Aitken O'Carey of ASAP Ministries.
Nine different languages from Myanmar (previously known as Burma) were present at the convention, along with visitors who represented Africa, Australia, South America and Asia. Hymns were sung, sermons preached, and prayers offered up throughout the weekend. As a result, there were five baptisms of young people who chose to dedicate their lives to the Lord.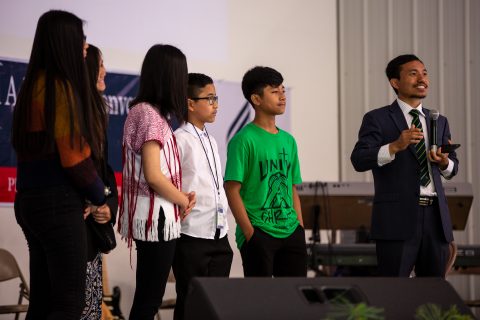 The number of refugees in the Lake Union has grown significantly. Just 10 years ago, there were no Myanmar congregations in the Lake Union. Today there are 10! Therefore, there is an urgent need for laborers within the Lake Union. This year, there were two initiatives at the convention designed to bring spiritual revival and equip laborers with tools needed to continue the work within the refugee groups.
To bring this initiative full circle, one cannot ignore the grim history of what the people from Myanmar experienced. Underneath the smiling faces are a people group who have experienced rampant ethnic strife and civil wars from their homeland.
"The government is intentionally doing an ethnic cleansing," said Terri Saelee, Ministry Special project coordinator of Refugee & Immigrant for the North American Division. "They are purposely ridding their country of those who do not hold the three Bs, which are people of Bamar-descent, Burmese-speaking, and Buddhist."
If asked about their experience, a smile followed by laughter is the common response by the refugees, but a spokesperson for the group revealed to Saelee, "We laugh so that we don't cry."
Over the last several decades, many have fled Myanmar to seek asylum in neighboring countries. According to the Center for Immigration Studies/ Refugee Processing Center, between 2017 to 2018, a total of 3,555 refugees from Myanmar were settled in the United States.
Relying heavily on church plant consultants, Saelee said that the NAD believes in empowering people from the different refugee groups. "By doing this," she said, "you bypass language barriers and cultural misunderstandings."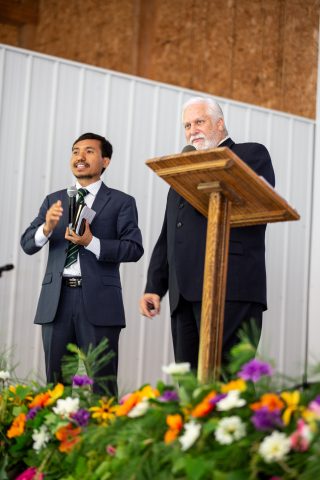 Saelee works closely with Samuel Ngala, pastor of the Fort Wayne Karen Church and Hope Adventist Company (Indianapolis), who understands Myanmar and its history.
"Culture is beautiful, but culture also can bring division," Ngala said, as he explained the complexity of working with the different language groups. "Language may be poetic but also can bring animosity," he continued. "With this convention and the theme 'United in Christ,' we are hoping to bridge those gaps with love."
The results of the NAD Myanmar convention, which began 10 years ago, are undeniably impressive. Alongside spiritual growth, many church members have dedicated themselves to launching church plants for refugee and immigrants in different cities.
"Young people are studying theology in preparation for ministry and refugees are sharing their faith in Jesus with colleagues at work," Ngala said.
The General Conference has designated Saturday, June 15, as "World Refugee Sabbath." This day is set aside to raise awareness of the needs of the more than 65 million people who have been displaced from their homes as a result of civil unrest and persecution.
Churches, groups, families and individuals are invited to participate using the resources made available on the NAD website as well as by exploring the information and stories shared by the Adventist Development and Relief Agency. 
Full list of presenters at the Myanmar Multilingual Convention:
John Kitevski, evangelist, elder and one of the leaders at Gateway Congregations in Melbourne, Australia
Charlie Thompson, Youth Department Director
Terri Saelee, Coordinator for Adventist Refugee and Immigrant Ministries (ARIM) of North American Division
Topics and presenters:
Healthy Lifestyle and Exercise by Nant Than Yee
Dating and Relationship by Eh Paw Thaung
Marriage Enrichment by John Kitevski
Healthy Marriage, Happy Family and Relationship by Julia O'Carey
A Healthier You: Diabetes Prevention, Brain Health, etc. by John Rachor
Financial Management by Trudi Starlin
Overcoming Trauma, Better Mental Healthy by A.J. O'Carey
Social Media, Games and Brain Addictions by Bill Wells
Science and Christian Faith by Rahel Wells
A Healthier Devotional Life by Rosangpuia Fanai
Why Adventist? by Bill Wells
Entrepreneurship: Starting Your Own Business by Pakap Dwin