When COVID-19 caused many churches to temporarily worship virtually, the Shiloh Seventh-day Adventist Church in Chicago launched a new ministry called, "Servants of Lights, Hope and Healing," (SLHH).
These are days of abnormal fear, panic, anxiety and hopelessness with towering ramifications on human health, financial security, social life and future goals. Fear, loneliness and stress have become companions in homes, even Christian households. When social and spiritual interactions are thwarted, not by choice but by circumstances beyond our control, we are forced to adjust.
For the last several months our physical church doors have been closed, yet the church remains open praying, serving and providing hope in times of uncertainty. Doing church in these times of the COVID-19 pandemic has changed for all churches. Zoom meetings, virtual worship services and even virtual communion services have proven to be a tremendous blessing to our congregants.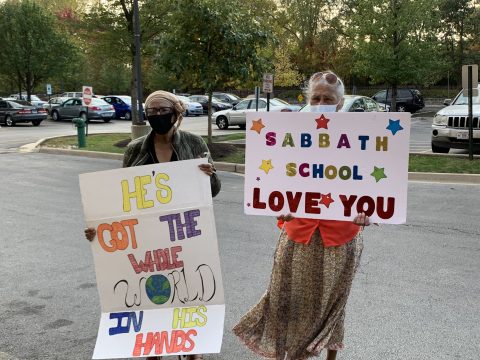 Virtual worship is good, but it can only go so far. Technology cannot place a loving hand on the shoulder of someone who recently lost a loved one. Technology cannot hug a senior citizen who feels lonely and depressed. In this new world of social distancing, people still need to be physically touched. The ministry of presence is more vital now than ever before.
God gave Arthur Webb, local elder at Shiloh, a vision to start an "innovative way to demonstrate an actively united show of Christ-centered love for person experiencing not just a sense of isolation or loneliness, but also confronted with the very real threat to life, limb and happiness."
The vision God gave to Webb was similar to the early church going from house to house praying together, singing together and in fellowship. The ministry began with a light vigil of the brethren reaching out to those with Covid-19, on Sabbath evenings at sunset.
What started out as a handful of people conducting visits quickly grew as word began to spread. The invitation was extended to many women in the church. As sunset was getting later and later, the ministry pivoted from sunset visits to Sabbath afternoon visits.
Elders, pastor, the Sabbath School department, Children's ministry Community Service and now over 20 individuals go out each Sabbath afternoon to visit the elderly, sick and shut-in members, and anyone who desires to receive light, hope and healing.
Messages of hope, love and care are displayed on large poster boards. Prayers and singing are heard in the neighbors. While we wear mask and social distant ourselves during the visits the presence of God is felt in the hearts of all.
Over the past 14 weeks, SLHH has visited over 40 separate locations and ministered to 55 members, extended families, friends, and countless neighbors who actually come outside of their homes to hear the singing and join in the prayers. This is community evangelism.
What's also amazing is that some who experienced the visited have now joined the ministry and are now visiting others as a result of the Holy Spirit impressing them to give back what they have received. There are several couples included in this group, one which recovered from COVID-19, and another dealing with cancer which the doctors say is doing better, have joined the group. They attribute their progress to answered prayer and active involvement in the SLHH ministry.
The testimonies from this ministry has been numerous. One elderly person who has been sick and shut-in said, "I didn't think some of you even knew that I existed! It's really encouraging to know now that I do matter and am cared for!" And another member stating, "It's nice to know that I'm not forgotten and that by so many of you showing up today lets me know that my Church Family cares!" Another person was recently hospitalized after receiving a visit. This person then testified about the visit and requested that a relative inform members of the ministry that she was in the hospital and provide her bedside telephone number, as she was anticipating and did in fact receive several calls from SLHH members.
The daughter of Catherine Miller said, "The visit from the church brought such joy to Sis. Miller." She and her husband were so moved and thankful for the time of our fellowship. Joel Middleton telephoned to express his warm-hearted gratefulness for our visit with his mother, wife, their caregiver and himself. He wasn't sure how many of us were present, asking as he saw just a few initially getting off the bus walking to the patio, "Are there more coming?" Again, he was over joyed with fellowship on Sabbath.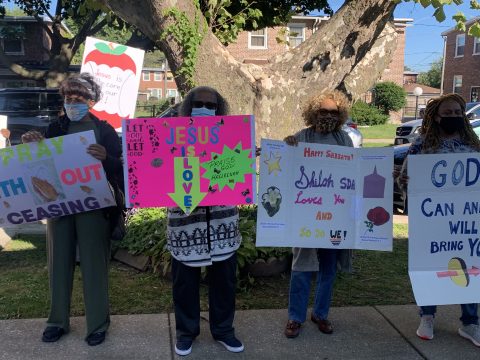 We have also received unexpected blessings. Someone who watches our ministry each Sabbath via Facebook was impressed to make sure that our visits couldn't only be seen, but heard as well and thereby making a pledge to purchase a karaoke device to ensure this. Bettye Scott sent the following message accompanied by a donation of a hundred dollars. "Happy thoughts just seem to follow. Thanking God for you. May God continue to bless this ministry. The happiness, encouragement and inspiration that it brings to us each week are a special reminder of God's faithfulness, care and goodness!" In Philippians 1:3 it says, I thank my God upon every remembrance of you.
Webb says, "God has replaced dark thunder clouds with clear blue cloudless skies. He has caused the overcast skies and breezes to bring relief on one of the hottest days of the year. The new normal of social distancing has brought out 'What a fellowship, what a joy divine, and we're leaning on the everlasting arms of God.'"
Servants of Light, Hope, and healing is a ministry of and for all ages, as entire families are consistently involved. The spiritual enthusiasm from each member is what drives this ministry. Members of SLHH often say, "This is a powerful ministry of loving supporting, active prayer and praise. I look forward to going out each week. Some members have shared it with other churches or some have view it on Facebook and have started similar ministries after seeing the impact."
Jesus reminds us in Matthew 25:40, And the King shall answer and say unto them, Verily I say unto you, Inasmuch as ye have done it unto one of the least of these my brethren, ye have done it unto me.
William Lee pastors the Shiloh Church.