Knowing that wisdom is found in the aged and long life brings understanding (see Job 12:12), we are highlighting some of our oldest members — 90 years and older, suggested by our conferences — who have modeled healthy living and cultivated a long walk with God. We can learn so much from them!
June is an opportune time for us to focus on health. This month we celebrate 156 years since the beginning of the Seventh-day Adventist health message. On June 6, 1863, in Otsego, Michigan, God revealed through Ellen White that Adventists should begin to pay attention to their health and lifestyle. This first major vision on health transformed the Seventh-day Adventist Church to become a leading entity in health and health science around the world.
Our members have benefited greatly from White's wise counsel on diet, exercise and other healthful practices. So, knowing that wisdom is found in the aged and long life brings understanding (see Job 12:12), we are highlighting some of our oldest members — 90 years and older, suggested by our conferences — who have modeled healthy living and cultivated a long walk with God. We can learn so much from them!
                                          Virginia Dunder
                                                                         98 YEARS OLD
                                                                                                                 By: Joshua Perdoza
Stay close, read your Bible every day, and you'll grow.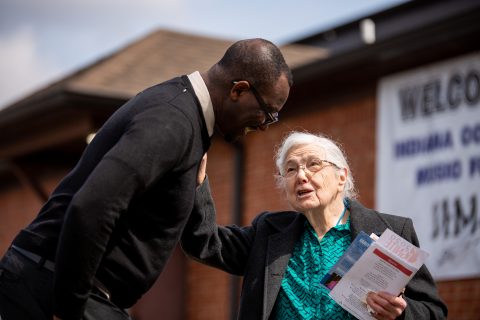 Virginia and her husband, George, were missionaries in Tanzania for ten years. He taught English at the academy while she raised their three boys. She admits life hasn't always been easy. While in Africa, George had an accident which left him paralyzed from the waist down. However, when they moved back to Indiana in 1973, they continued to serve their church.
Despite her age, Virginia continues her faithful church and prayer meeting attendance to this day. "From a child I wanted to help people know the Lord, even in grade school. If you ever want to know what the Lord wants you to do, He will show you and guide you.
"What do I do for fun? Work! That's the joy of my life — doing what needs to be done. If someone needs something, I will try and help. Just do the work, then the next thing that needs to be done. Do it! and the Lord will bless.
"The Lord has been very, very, very good to me, so I cannot sit still. I'm always on the move. I used to canvass and sell books, and I walked everywhere. Exercise is a part of God's blessings."
When asked what advice she would give for growing old with grace, the nearly life-long vegetarian replied, "Stay close, read your Bible every day, and you'll grow. The Lord will bless you because of that."
---
                                              Melvin Lund 
                                                                         96 YEARS OLD
                                                                                                                 By: Joshua Perdoza
Don't take life too seriously.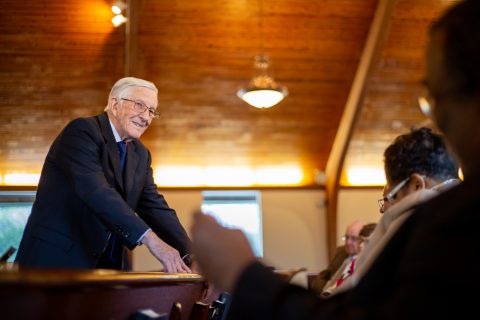 Melvin is professor emeritus of Operative Dentistry at Indiana University School of Dentistry where he served as chair of the Department of Operative Dentistry for 14 years. Prior to that, he was a founding faculty member of Loma Linda University School of Dentistry and served as chair of its Department of Restorative Dentistry for 13 years. He continues to serve his church, singing in the choir and teaching a monthly Sabbath School class.
When asked how he stays healthy, he stated, "I play golf and used to ski until recent years. Eating between meals is not a problem for me. I always get eight hours of sleep. A sense of humor is important as it promotes and fosters a jovial spirit. If you're going to heaven, there are a few things you'll take with you, and sense of humor is one of them. It's important to not take things too seriously. You certainly don't want to throw a dark curtain over things.
"I like to do a lot of reading. Right now, I'm reading about Winston Churchill. I'm a World War II veteran and am sensitive to those times, how they arranged their armies and so forth to accomplish what they did. I realize that falling is my biggest enemy and do whatever to minimize that possibility."
When asked what advice he has for younger members, he responded:
"If you're going to develop a landing platform for this time in your life, don't wait 'til you get there because by that time you'll have missed the boat. You're going to [need to] make a plan — whether it's financial, educational, philosophical, and you're going to want to begin making it early. Be consistent.
"Don't take life too seriously. For sure, don't be easily irritated. If you make a mistake, shake it off and go on. This attitude contributes to longevity. It's the little things, the things that don't get mentioned that supports your activity in life."
As he ponders the end, he said, wryly: "When it comes, I hope that I've lived a life that makes sense. I still believe in the resurrection. That's part of the game plan. We'll see how well they tolerate me in heaven!"
---
                                          Agnes Moushon
                                                                          92 YEARS OLD
                                                                                                              By: Cheri Daniels Lewis
We've got a lot of good information from our health message. We just
need to apply it.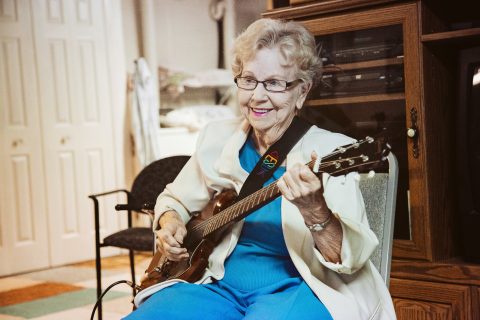 Ninety-two-year-old Agnes Moushon is still going strong — whether that means producing her weekly cable news program, delving into Revelation as prep for a Sabbath School class, or lighting up her Gibson electric guitar with The Music Makers, a gospel band with which she's played for the last 18 years. Moushon is an active and engaged member of the Richland Bridge Church in Chillicothe, Illinois. She teaches, helps out with Pathfinders, assists with evangelism, and even does some maintenance from time to time.
She was baptized in the Illinois River in her teens, after one of her dad's coworkers started coming to the house, offering studies. While she's warm and welcoming, her no-nonsense side shines through, too, probably from decades of working as a probations officer for the Illinois Department of Corrections. When the State recruited her to work in a new juvenile delinquent facility (after seeing her interact with some young people), she couldn't even read the letter that offered her the job. However, soon thereafter, she was working fulltime and going to school, capping off her education with a Master's in Criminology and Sociology.
Here's Agnes, a mother of 10, with 33 grandchildren and 13 great grandchildren, explaining, in her own words, the secrets to her long life filled with happiness:
 "I keep moving. I'm always out of bed no later than 5 a.m. and I'm in bed by quarter past nine — unless I'm at a party. You're gonna die earlier than you would if you don't keep busy!"
"I want to get one of those push lawnmowers — I know I need the exercise. Stairs are important . . . and I try to park a distance from any front door."
"We've got a lot of good information from our health message. We just need to apply it." 
"Be happy!  Do what makes you feel happy."
"I read tons. I like to learn, mostly about prophecy."
"I've always been interested in the Bible. It's fascinating to me; it still is. I think about it all day long. I sit down and study three to four hours per day, at least! ... Develop an interest in Revelation. We don't know what's coming if we don't. Bible literacy is so important. Just put aside those cell phones and pick up the Bible. I think we'd have a blessing we haven't experienced before."
---
                                           Preston Jowers
                                                                        104 YEARS OLD
                                                                                                                By: Malissa Martin
When I wake up, I thank God and I always do it with a smile.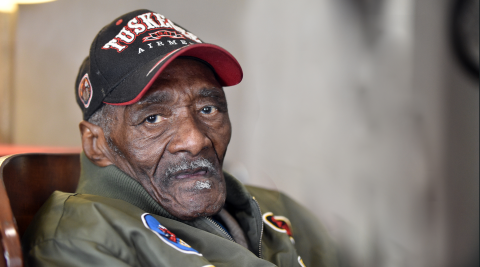 For over a century, Preston Jowers has been a witness to historical changes that most people can only imagine. Born and raised in Georgia, Preston was picking cotton and plowing fields by the time he was 12. During his preteens, Preston lived with his grandmother for a while. She had three rules: go to school, go to church, and obey the 11 p.m. curfew. This is where Preston said his life shifted and he started to find his footing for the type of man he wanted to become. Years later, he joined the army and worked as an airplane mechanic for the Tuskegee Airmen, a group of African-Americans who fought in World War II. He won the Superior Award twice for "Best Kept Plane."
After migrating to Detroit, Preston met and married a dear woman, Mable (now deceased), and they had five children (two are deceased). In 1947, Preston and Mable were baptized at City Temple Church (then known as Hartford Church), although he has been a member of Burns Church on Detroit's east side for over 50 years.
Throughout the years, he has worked in several church ministries involving young people, including coaching youth basketball teams for the Christian Fellowship League. He credits his longevity to being around youth. "That's what keeps me going every day."
Celebrating his 104th birthday this June, Preston says he has two goals in life: to see God and to be a blessing to others. "My Hope Is Built on Nothing Less" by Edward Mote is his favorite song; it brings tears to his eyes because he says that, after living so long, he has nothing left but hope in the Lord.
First thing in the morning...
"When I wake up, I thank God and I always do it with a smile because I want the good side of me to work every day. The good side of me thinks about other people and their situation in life."
Healthy diet...
"I love vegetables. I love fruit like bananas, apples, oranges and grapes. Sometimes I cut them up and mix them together. I drink water but, I'll be honest, I don't drink enough.
Physical activity...
"I exercise my arms and my legs. When I sit in my chair looking at TV, I don't just sit there. I move my arms and my legs. I do it about three to four times a week."
Advice to young people...
"Pick what you think you want to do in life and stick with it. And always do the best you can in anything you do. That's what helped me in this world."
Advice to senior citizens...
"The young people have a lot to give back to us if only we would accept it in the right way. What I mean by that is, if you make a mistake, I get down on you in the wrong way. I should do it with love. We old people don't do that enough."
---
                                          Arthur Weaver
                                                                        95 YEARS OLD
                                                                                                               By: Debbie Michel
Unless you're in service, you're not going to enjoy life.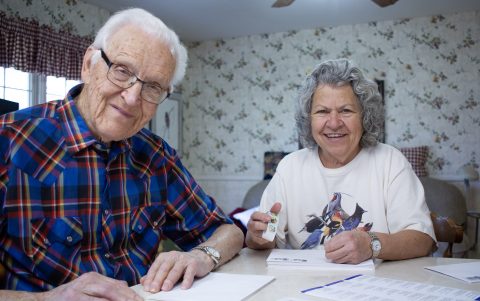 At 95, Arthur Weaver is still busy serving his church. He sits on the Michigan Conference Camp Au Sable board, where today he is carefully helping to oversee construction of their newest building, Eagle Lodge. He serves as first elder of the Plymouth Church, and helps correspond with 1,500 prison inmates. "Service produces joy," he said recently in a strong, clear voice.
Before his retirement, Arthur worked at several Detroit area hospitals and became Chief of Surgery at the V.A. Hospital. During his time as a surgeon, his philosophy was to never turn anyone away because of financial inability to pay. He also quickly gained the reputation for tackling some of the more difficult head and neck cancer problems.
Although Arthur saved thousands of lives during his surgical career, he said that he believes his work with Better Living Seminars ministry may have saved more.
He, and his wife, Natalie (now deceased), started Better Living Seminars after a five-year stint serving as missionaries in Pakistan. Noticing there weren't any local stop smoking programs (this was shortly after the first Surgeon General's report linking smoking to diseases), he made it his mission to develop seminars in Metro Detroit.
The five-day seminar he ended up utilizing was so successful that it was featured in the local media. The Michigan Cancer Foundation also made available, upon request, a booklet Arthur helped produce that included further information and suggestions on how to successfully enjoy a smoke-free lifestyle. More than 100,000 booklets were requested and distributed. Arthur said that many people told him they quit smoking when they saw him cut into a cancerous lung during one of his programs. This was only the beginning of nearly 50 years of presenting stop-smoking seminars. His seminars were featured in The Detroit News and Detroit Free Press newspapers, presented on the local Detroit Channel 4 television, and all around Michigan. Many large corporations, such as General Motors and the Ford Motor Company, have utilized his services.
His wife, Mary Lou, 71 (they married last year), says Arthur is more active than most seniors she knows. "I can hardly keep up with him!" she said. Their prison ministry is thriving. Each day the mailbox is stuffed with letters from inmates across America. Arthur usually gets the mail and together they correct the Bible studies, write personal letters, and send the prisoners books and calendars.
When pressed to answer why he keeps going when he could sit back and enjoy his family of over 80, including children, their spouses, grandchildren and great-grandchildren, Arthur reiterated: "Unless you're in service, you're not going to enjoy life."
---
                                              Lola Luttig
                                                                        92 YEARS OLD
                                                                                                               By: Debbie Michel
We have to be willing to not only read what it says in the Bible but eat and live that way.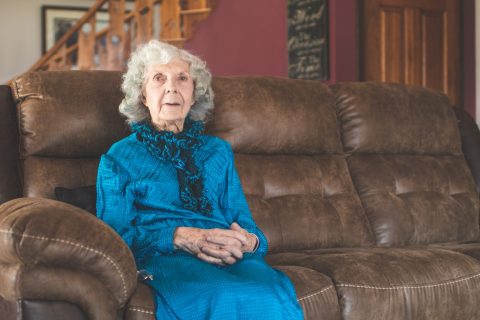 Former Wisconsin school teacher, Lola Luttig, turns 92 this June. Her little house is nestled deep in a beautiful valley, just above her watercress spring, on a road that bears her family's name. But while Lola may be out in the country, it doesn't keep her from getting around. She's always driving her red Jeep around Richland Center and, during Wisconsin camp meeting, her little purple golf cart can be seen zooming around Camp Wakonda.
Lola acknowledges she wasn't always as fastidious about her health as she is now. In 2008, she broke her hip and, during her bedridden recovery, had an epiphany. "There's nothing wrong with my mind," she recalls. Feeling impressed to call an herbalist to see if he was still doing classes, she discovered that, not only was he still in the business, the classes were half price. Before she knew it, she was signed up and taking classes. More than interesting, the classes were also transformative.
When our reporter/photographer, 19-year-old Anthony Isensee, met up with her, she was eager to impart advise about nutrition, mission, and how young and old can form more meaningful relationships. Here's Lola — a mother of one son, grandmother of five, great grandmother of one, in her own words.
On diet and exercise: "Food is what builds our body. There's no use in thinking otherwise. We have to be willing to not only read what it says in the Bible but be willing to eat and live that way. It's also very important not only to eat properly, but to realize how near to the end we are.
"I take two cloves of garlic every day. ... Take at least a teaspoon of processed tomatoes — that takes the smell away! ... I drink soup every morning since it gives me lots of water. … If you walk 1,300 steps a day, that's the same as if you walked for two miles. I got me one of those gadgets and pinned it to me [to track my number of steps]."
On missions: "I travelled to 60 countries, seven with Wisconsin Academy. Only until you travel to foreign countries do you really realize how fortunate we are to be here in the United States to have religious freedom. When I was in Hungary, the [church] officers had to go to the state police to get the keys for the church. They (the members) hadn't been in church for five years. They got the keys on Friday and had to return the keys on Monday when the state office opened, or they'd be fined heavily. … There is an overwhelming need for assistance throughout the world."
Advise to seniors: "Get involved in raising grandchildren. … A senior citizen always needs one or two close friends, and also a non-Adventist friend, so you can get them to come to church. If each one can gain one, what a difference that would be."
On youth finding wisdom: "One thing every teenager should do is to find an elderly person and become a friend to them. Find a retired person, not someone involved in their work. When someone tells you they need you, they want you, it does something to your body. It's a joy to me to see that someone wants my company."