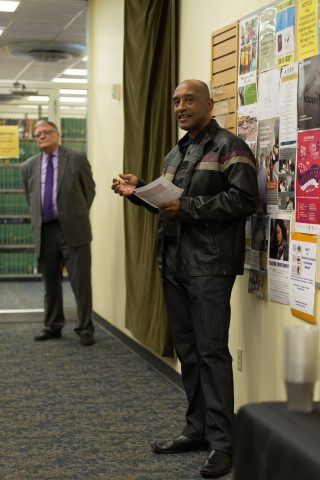 Sometimes God plants the seed of an idea in our head, and lets it grow for years until all the pieces are aligned and it's time to harvest. Illustrator Mark Hunt had a seed planted about writing a children's book years ago, and God finally decided it was time to bring it to fruition. "I started out as an illustrator and painter, and a number of people always wanted me to get into writing children's books," said Mark.  
Although he never considered writing, he still followed God's lead into unchartered territories. Like the character in his book, Mark, too, had to overcome fear and write the story God placed in his heart. 
He recently released his first self-published book, The Buffalo Frog: My B.F.F., on Amazon and Kindle. The book, which Mark plans to turn into a series, is about a little girl that has a fear of bugs. "What happens is she creates a friend out of an imaginary frog that helps her through her fear. She becomes friends with the frog and that's just the first series of how she's able to cope with that particular fear." 
When Mark decided to step out in faith, he wanted to make sure he got it right. So he brought into the project his wife, Carole Woolford-Hunt, a psychologist, and his sister-in-law, Susan Woolford-White, a pediatrician, to ensure his story made sense from an educational and psychological standpoint. Woolford-White turned the story into a rhyming book, and Woolford-Hunt wrote some of the questions in the back of the book for parents to discuss fears with their kids. "Most fear books that are written now, they really don't have a conversational piece for the child as far as remembering the story and dealing with their own problems that may arise within the book itself," said Mark. "We focused on that particular fear and that those fears can be not just bugs, but it could be several things the child is going through."  
Writing the book was something totally new to Mark because he has built his career as an illustrator, using etching and granite as his medium. He has created murals across the United States, including Florida and Washington, D.C., and even had a walk-through gallery in Trinidad at the University of Southern Caribbean showing the University's history. "The murals that I do, I actually etch pictures into the granite. Basically, it's black granite that's polished and I have a diamond tip tool that I use to etch in the granite itself. It's extremely time-consuming and you can't make any mistakes," he said.  
Nevertheless, Mark stepped outside of his comfort zone of illustration and into the writing arena. This just proves that God will use what's already familiar to you to stretch your abilities.  
It took the Berrien Springs resident about a year to complete the book. Now that the ball is rolling on the children's book, he's currently working on a devotional book for adults. "It would be a series of the granite work that I've done that would be depicted in the book itself," he said.