A team of nearly 70 associates and physicians from AMITA Health volunteered to serve those in need at its first-ever Mission at Home event in Harvey, Ill. 
The team treated more than 200 patients through a partnership with Restoration Ministries, a faith-based community center that provides care for those struggling with drug and alcohol addictions. Restoration Ministries was founded in 1988 by the father of John Sullivan, an emergency medicine physician at AMITA Health. 
Patients were able to be treated by specialists in orthopedics, pediatrics, family and emergency medicine, dermatology and podiatry. A nutritionist provided counseling, and guests enjoyed healthy cooking demonstrations. A pharmacy and free reading glasses also were available for patients.
"The team also provided 48 joint injections, filled 500 prescriptions and made more than 25 follow-up appointments with local health care providers," said Rema Johnson, D.O., an emergency room physician who spearheaded the event. "For many years, our health system has done medical mission trips abroad. The idea for a one-day trip came up at one of our physician wellness meetings as a way more physicians and staff could be involved and feel truly connected to our mission. Seeing our mission in action is a very powerful experience." 
Ann Marie Niemer, regional director of Post-Acute Strategy who has served on the leadership team for the seven-day international trips, said even though the trip was shorter, the goal was the same — to provide care to those in need. 
"We see people who don't have access to this level of care," she said. "Some have never seen a specialist before. It's about putting all of these resources in one place where the access is easy and available to all."
Several volunteers worked in the foot-washing room, where guests had their feet examined and washed. Jeanne Curcio, an executive assistant, volunteered to serve in this area. As a licensed manicurist in the past, she felt called to serve in this Christ-like way.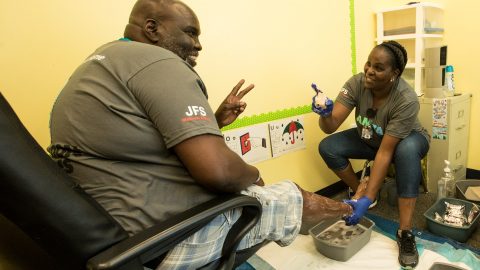 "We helped renew, refresh and guide patients in their foot care," she said. "We saw diabetic patients, some with fungal or foot ulcers. After we washed their feet, we had the podiatrist assess their feet and treat any issues. Then we gave them a new pair of shoes, if they wanted them. I could feel the sense of relief and dignity it brought to the patients."
Karen A. Moore, director, Women and Infant Services, also worked in the foot-washing area. One older man came into the room on a motorized cart, and Karen helped him take off his shoes and socks because he could not bend over to do so. "Within a couple minutes of me gently washing around his swollen feet and ankles, he softly said, 'I have waited all my life to know what it feels like to have Jesus wash my feet. This, I will never forget.' I thanked him for saying that and told him how much that meant to me. That's when I realized the reason why I was there that day."