Earlier this year, representatives from ASAP Ministries (ASAP), Andrews University (AU) and local Adventist congregations partnered to launch a unique health outreach to Chin refugees in Battle Creek, Mich. During the first phase of the project, more than 60 members of the local Zomi Adventist group gathered at the Battle Creek Tabernacle on Feb. 29 for Think Healthy, an event featuring interactive presentations on trauma and mental health, parenting and healthy relationships, as well as health screenings and a cooking demonstration.  
Approximately 4,000 refugees from Myanmar (formerly Burma) have resettled in Battle Creek over the past 15 years. Most come from one of five ethnolinguistic groups — Chin, Burmese, Falam, Haka and Zomi — in Myanmar's Chin State. Predominantly Christian, many Chin refugees have planted their own churches, including the Zomi Adventist group led by Pastor SB Ngaih Cin. Yet, like many refugees, they often struggle to adjust to life in America while also dealing with the effects of persecution and trauma suffered in their homeland. 
In 2019, Bill Wells, ASAP Ministries Refugee coordinator, and Shawna Henry, Pre-Licensure Program director for the AU School of Nursing, began brainstorming ways to minister to the needs of these refugees. As plans developed, the project grew to include partnerships with several other AU departments, including the Office of Community Engagement, School of Nursing and School of Population Health, Nutrition & Wellness, as well as five Chin-speaking students from the undergraduate- and graduate-level business and theology programs who volunteered to serve as translators.  
Tiji Pau, a Zomi Adventist lay leader, expressed his gratitude for their efforts, sharing what a blessing he and the group's members received from Think Healthy as they learned about caring for their physical, relational and mental health. During the initiative's second phase, planned for spring 2021, project partners will support the Zomi Adventist group in organizing a citywide Think Healthy event for the larger Burmese-Chin community. 
Shirley Finneman, director of Adventist Community Services in Battle Creek, who was instrumental in organizing the initial event at the local level, had been praying for just such an opportunity for some time. She marveled at how God brought together all the details. Wells concurred, remarking, "The synergy both in the planning and execution of the service was felt by all. To see such unity in the body of Christ, coming together in service, was a wonderful gift to behold and experience!"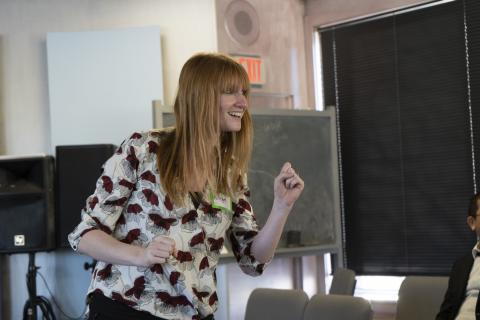 ---
Bill Wells serves as Refugee coordinator for ASAP Ministries in Berrien Springs, Mich. Jeniffer Peña, an intern at ASAP Ministries, is completing a Master of Social Work (MSW) degree at Andrews University.