Tommy's Kids Camp comforts grieving children
Like Jesus as he joined Martha and Mary in grieving the death of Lazarus, we, too, are called to weep with those who weep" (Romans 12:15). How much more so when the one grieving is a child who has lost a loved one? Only the Lord knows the depth of pain, confusion and frustration a child may experience in such situations, but a special hospice program at AMITA Health Adventist Medical Centers exists to extend the healing ministry of Jesus to young mourners. 
The hospice created Tommy's Kids Camp in 2006 to provide a fun and creative camp experience that included opportunities for children to feel supported, learn coping skills and make new friends. "Our goal is to help children feel like they are not alone," said Laura Cottrell, supervisor, Bereavement Services. "Grieving kids need to know it's still okay to laugh and have fun." 
Open to any child in the community who has experienced such loss, this year's camp welcomed 32 campers in June. Each day they participated in grief activities interspersed with unique art projects and games. Group sharing activities included a "show and tell" with their loved one's photo. Children made tie-dye shirts, rain sticks, stained glass butterflies and memory wind chimes. Games had all campers participating in water play, playground fun, and more.
Each day a special guest helped to further the camp's objectives. Firefighters were invited to come talk about how they serve people in crisis and gave kids a chance to climb on firetrucks. "Some kids only have had a terrifying encounter with the fire department if they were present at the loved one's death," said Cottrell. "The firefighters showed kids they are good people who can be trusted to help."
Each participant was paired with a volunteer counselor whose role is to help the child with activities and speak with them if they are having a difficult time. Rosemarie Cohen, bereavement coordinator, has volunteered since the first camp. "Children become forgotten grievers because adults don't always recognize or understand how deeply they are grieving," said Cohen. "Since they are often very protective of their parents' emotions, they may not show how affected they are by such a painful loss."
Cottrell said parents are given a book at the end of camp to help them know what to look for and how to help a grieving child. "I liked how the children felt accepted and welcomed by counselors and other campers from the first day," said one parent.  "I feel they were grateful to be around others who knew exactly what they were going through." 
Proof of the camp's impact is shown in how many former campers have come back to volunteer. "It's so gratifying to see young people whose lives have been changed so much they want to come back and help others," said Cohen.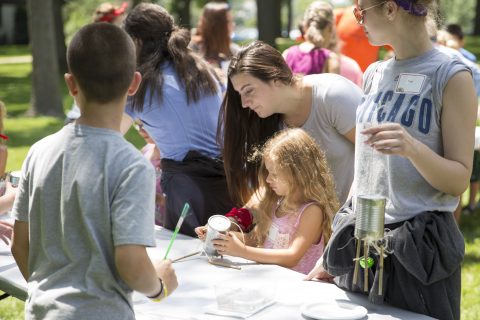 Courtesy of Laura Cottrell