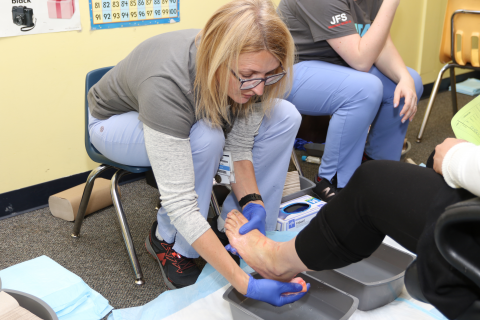 As Jesus prepared the disciples for His imminent crucifixion, He said, If you love Me, you will keep My commandments (John 14:15, ESV). This came shortly after He told them of another commandment to love one another in John 13. In these two passages, Jesus was saying that if we love Him, we will show that love by caring for others.
When Jesus knelt down after His last earthly Passover meal, towel wrapped around His waist to perform the task of a lowly household servant, He was speaking volumes about how love looks — the care, humility and vulnerability that is embodied in foot washing. If the act wasn't enough to get the disciples' attention, He then told them to, Go and do likewise.
Associates and physicians at AMITA Health are taking Jesus' message to heart. In April, the system hosted its second annual Mission at Home event where more than 100 people in an underserved neighborhood in Harvey received free health care and clothing donations. Many physicians and associates contributed time and resources to the one-day event, offering orthopedic, pediatric, psychiatric, family and emergency medicine, dermatological and podiatry care.
Yet there was more to the event than attending to each person's physical needs. One of the services offered was foot washing. Participants were surprised to learn the service was not in preparation for a visit with the podiatrist, but to show them the love of Jesus.
"Foot washing leaves a deep impact on the soul," said Leeroy Coleman, chaplain at AMITA Health Adventist Medical Center Hinsdale. "In receiving, people feel deeply cared for, and in giving, staff feel honored to be able to care for another child of God in such an intimate way." Coleman said foot washing levels the playing field; it removes status and race, and is a meeting of two equals.
"When someone allows me to wash their feet, they are being very vulnerable with something so personal," he said. "Jesus knew foot washing would stretch us out of our comfort zone and help us be real in caring for one another."
AMITA Health Adventist Medical Centers Bolingbrook, GlenOaks, Hinsdale and La Grange have all sponsored Spiritual Emphasis Week events that include the opportunity to wash one another's feet.
Ismael Gama, senior vice president and chief Adventist mission officer, said offering the service is a testimony of Jesus' unspoken presence.
"We are all called to be servant leaders, and when we act on that call, it fills the soul like nothing else," said Gama.
---
Written by Julie Busch, associate vice president, Communications, AMITA Health