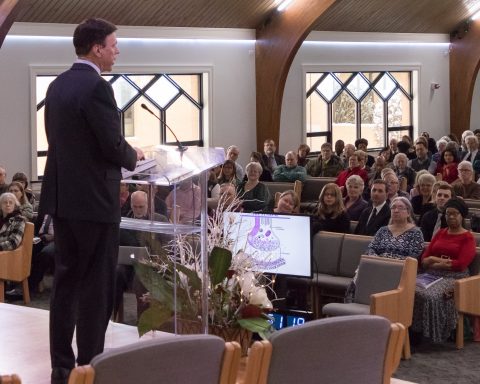 Michigan—Neil Nedley, M.D., a leading expert in the field of depression and anxiety, presented on ways to achieve peak mental performance during a power-packed Jan. 26 service at the Berrien Springs Village Church.
Some of the highlights from his Jan. 26–27 presentation included a list of ten recognized cognitive disorders in society and how they are all addressed in the Ten Commandments. He expounded on following God's executive orders which put some boundaries on our life and give us freedom, allowing us to be free from the downfall of these cognitive disorders.
Nedley, who also serves as president of Weimar College and adjunct professor of Medicine at Loma Linda University, quoted research that affirmed church attendance — those who prioritize God tended to have their priorities straight, have higher comprehensive self-control, and church attendance is associated with longevity and an increase in quality of life. Increased intrinsic religiosity is associated with less depression and more rapid remission.
Another interesting research Nedley cited came from San Diego State University professor of Psychology, Jean Twenge, that happiness of young people in the U.S. plummeted after 2012, the year when the proportion of Americans owning a smartphone rose above 50 percent. The happiest young people were those who used digital media a little less than an hour a day.
Of interest to Seventh-day Adventists was research on Sabbath-keeping and its relationships to health and well-being. In the research done by D.J. Superville, K.I. Pargament and J.W. Lee regarding the Blue Zones, researchers wanted to know how keeping the Sabbath affected the health of those in the Blue Zones, as compared to some control groups. They found a significant correlation between Sabbath-keeping and mental health, including that greater Sabbath-keeping was associated with more religious coping, more religious support, healthy diet and more exercise, which, in turn, were associated with better mental health.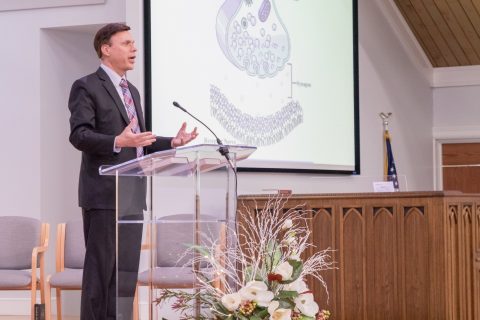 After a fellowship meal provided by members of the Village Church, Dr. Nedley had two sessions in the afternoon — "Nutrition and the Brain"; "What to do About the Rapid Rise in Dementia and Alzheimer's." Of special interest to those attending was the top 10 list of foods that provide the nutrients we need for good brain health. Some of the top ten foods in various categories include: (tryptophan) sesame seeds, almonds, tofu; (tyrosine) pumpkin seeds, Spanish peanuts; (folate) black-eyes cowpeas, lentils; (antioxidant rich vegetables) garlic, kale, spinach; (antioxidant rich fruit) blueberries, blackberries, strawberries.
Audience members were inspired by the story and habits of a vibrant 112-year-old farmer from Botswana, Jato Mailose. He goes to bed before 8 p.m. and rises at 3 a.m. He's vegetarian, eating only two meals a day, 4 a.m. and 11 a.m., fasting 16-17 hours a day, which contributes to good gut health, said Nedley. Mailose works 11 hours a day outside doing physical labor, and has upright posture and good muscle tone. He is still mentally sharp, teaching a weekly Sabbath school class and serving as Pathfinder leader.
On Sunday, Nedley spoke to a Seminary chapel full of students and guests about how to recognize the symptoms of depression and anxiety and how to help people. Training is available for people to become certified in running depression recovery seminars. People also can attend an 18-day session at Weimar to give them a NEW START on their health.
An attendee from Kalamazoo said, "It was a very empowering weekend as I realized that we have control over our health and our brain. We have a capability to create a better future for ourselves regarding our health."
Recordings of Nedley's presentation are available at the Village Church YouTube page.