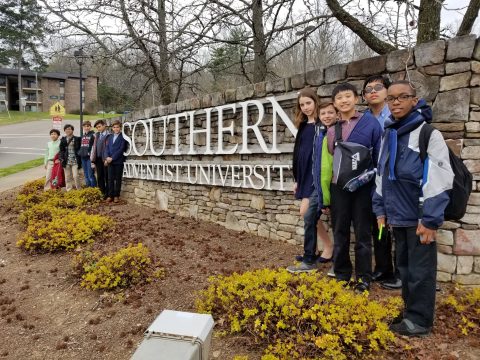 Illinois—Several years ago, Hinsdale Adventist Academy was able to establish the school's first Lego Robotics team, and last year, the team experienced impressive progress. 
Led by a volunteer,Hinsdale Fil-Am Church pastor, David Kokiong,and aided by devoted parent helpers, the Hinsdale Hydrostorm team focused on the assigned topic of hydrodynamics — the judicious use of water. One thing that the Adventist Robotics League emphasizes is that all ideas and work must be done by the students. Our students focused on the sulfurous smell of the water at Camp Akita. They researched and determined that a solar panel would help filter the hydrogen sulfate. The students experienced real-life results of their plan when they did presentations at the conference office and were put into contact with the conference's water studies and a team at Andrews University to explore actually putting a plan into action. 
The team traveled to the annual Adventist Robotics League competition, held last March at Southern Adventist University. The competition involves teams presenting their projects, demonstrating how their team follows core values such as teamwork and inclusion, and competing against other teams in robotics mission. Aided by their strong project and good core values, the Hinsdale team wasthrilled to qualify for the national finals in Florida, where they placed 5th nationally. 
They returned home to many people excited at their achievement, and more students eager to join. This year the team has experienced a wonderful growth of 19 students, resulting in the need for two teams: the Warriors of Orion, and the Shooting Stars. Hinsdale Adventist Academy looks forward to seeing what they will create this year!  
---
Photo by David Kokiong
Cover photo caption:Robotics students from left to right: Nathaniel Dieujuste, Noah Indreiu, Sara Korac, Jacob Capina, Sergio Pulbere, (Simon Indreiu, in grey), Luka Piroski, Jason Morse, Nathan Tessalee, Kevin Gabriel, Elliott Kim