GET REAL is a reminder that youth ministry doesn't have to be expensive or flashy. It just must be done in love. 
When someone travels north from Kalamazoo to Grand Rapids in Michigan's west side, the first pair of towns they encounter are Plainwell and Otsego. The communities are almost identically-sized, but because Plainwell spans both exits on the highway, few ever encounter historic Otsego and realize it. While people may miss this quiet town, it has held a prominent place in God's work throughout the past century-and-a-half. 
Adventism came to Otsego in the late 1850s, carried by messengers like James White and Joseph Bates. The believers in Otsego were a part of those who signed the original charter for the Michigan Conference in 1861; the town would later become headquarters for what was the West Michigan Conference for a dozen years in the early 1900s. It also was in Otsego that Ellen White had her first vision on health reform on June 6, 1863. 
While the believers who gather there today have a lot to appreciate from their past, they are even more excited by doors God continues to open for them for future ministry. Their branch of Adventist Community Services reaches hundreds of people each year, distributing thousands of articles of clothing and household items. They regularly engage with their local neighborhoods for their "RAD Routes" prayer walks (Roads ADopted for prayer), literature distribution and Bible study programs. While each of these ministries has an impact, they might best be known in Otsego as a place where the youth can go to GET REAL. 
GET REAL 4 Kids is their weekly youth group program. The vision of this ministry is contained in the name itself, as GET REAL is an acronym: Go Everywhere To Reach Everyone Around in Love." This program began in 2010 when several members started to wonder how to connect with the youth of their church and their community. One of the families, the Lanphears, made GET REAL their top ministry priority. They faithfully drive through rain and snow nearly every Tuesday night to open the fellowship hall to the area young people.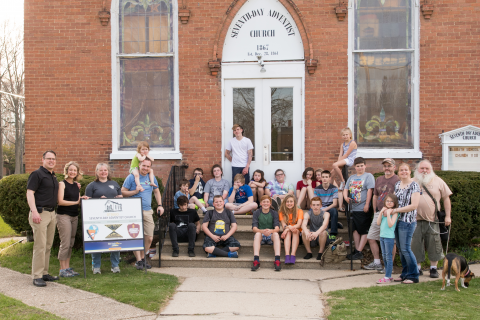 The actual program itself is not extravagant. Due to Otsego's limited budget, GET REAL consists of a simple meal, group games and a worship message. Games are chosen based on weather and how many kids attend, but some favorites are Capture the Flag in the church's front lawn, and basketball using an old hoop donated by a family in the community. Worship is equally simple, often just a short story relating a Bible passage. One reason for the worship format is that only a few who attend are biblically-literate. A small number of families have children who attend an Adventist church; even fewer attend church of any denomination. 
For the young people, GET REAL is their weekly church experience. The value of GET REAL demonstrated itself one week during the worship talk. There are new attendees nearly every week, but one evening a certain young man generated quite a buzz. Multiple parents opened the church door, leaned in to see this boy, and said, "When this is over, call your parents." What we found out later was that he had gone to a friend's house after school, and that friend then suggested they both come to GET REAL. He forgot to tell his mom where they were headed, and she called several of his friends looking for him. The response was always the same: "He's not here, but if you can't find your kids on a Tuesday night, they're at church." And they all meant the Otsego Seventh-day Adventist Church. 
The staff of GET REAL report over 250 unique attendees in just the past five years, and a regular attendance averaging 20-25 kids. So how does a historic church with just 40 members and a small budget become the trendy place for young people? The secret is the leaders don't just want to reach the community, they want to do it "in Love." The kids know that the adults who come each week to supervise are there because they love these kids and their families. This love shows up in the warm welcomes, the fun and games, and the overall positive atmosphere during. Their GET REAL kind of love also shows itself in visits to families where a parent lost their job and the family needs food. It shows up when a single mom is diagnosed with breast cancer, and her teenage sons come running to GET REAL with tears in their eyes and a need for hope in their hearts. The GET REAL team offers resources for repairing dysfunctional marriages, handyman work for homes that needs repair, and plenty of quality time before and after the program for teens aching to connect with someone who cares.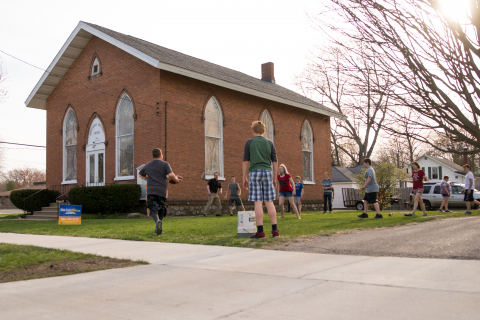 While it may not result in the numeric church growth typically expected of an outreach ministry, the entire church family sees the quality of life improvement in the young people of the community. There is a young lady who discovered GET REAL while she was in middle school. She came from a split family, and her home situation was further complicated while she was in high school when her mom developed a brain tumor. The church family intentionally looked after her and her family in love, and she responded to God's lovingkindness by becoming a Pathfinder and playing piano during Sabbath worship services. She is currently working on Bible study lessons while attending Andrews University. She enjoyed the Adventist environment so much from GET REAL that it was an important part in her college selection process. 
GET REAL is a reminder that youth ministry doesn't have to be expensive or flashy. It just must be done in love.