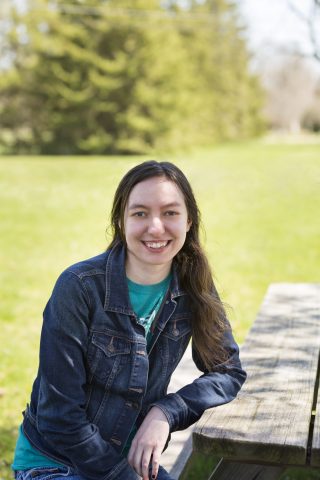 Joanna Jones is a native of Dayton, Ohio, and an Andrews University senior, studying photography with a minor in leadership. Recently, she embarked on an endeavor through which she hopes to better the lives of those too often overlooked.  
Students involved in the Undergraduate Leadership Program must develop a Change Project where, as the name implies, students make a change in their community. Joanna's "Homeless Awareness Project" began as a way to fulfill requirements for her Change Project.  
"Last semester I came up with three Change Project ideas I was interested in," says Jones. "When I brought my ideas to my mentors, they asked me which idea I wanted to work on. As I was talking about the homeless awareness idea, they saw my face light up and knew that this was my Change Project." 
Jones says a typical project day consists of trying to find shelters willing to let her photograph people for the project. "Once I find people, I sit down with them for a minute or two and listen to their stories," she says. "When they finish, I take my camera out and take some images of them."  
Through this combination of images and words, Jones is able to capture and share the essence of the people she meets — she represents their backgrounds, their personalities and a small part of their lives. 
Much preparation and behind-the-scenes work takes place. After Jones gathers images and stories, she types up the stories, makes small changes on the images and crops everything to the proper size in order to ensure that every piece of her puzzle fits together. 
Jones has encountered some obstacles along the way, pushing her to adapt the project from its original outline. She says, "My initial plan was to have over 30 people encompassing a vast range of ages and races. I wanted to hand out books with different images and stories as well as business cards with the project website. After I had difficulties finding shelters willing to let me photograph people, I decided to cut down to only 20 people and a few extra stories. I dropped my idea of a book and business cards." 
In spite of these roadblocks, Jones has ambitions and plans to move forward. She has developed a website, homelessawarenessproject.com, where people can access her platform from a different interface. "My main goal for this campaign is to bring awareness to what homeless people go through," she explains. "When people see the images and read the stories, I hope they decide to help in any way they can." 
Emily Carlson, director of the Undergraduate Leadership Program, says, "I love watching our leadership students embark on their Change Projects and all the ensuing growth involved with being a catalyst for change in the world around them. When Joanna presented on her Change Project at our annual capstone presentation, I found myself tearing up at the change I have seen in her. She has blossomed during her time at Andrews, and it has been a joy to watch her grow in confidence and ability. Homelessness in the Michiana area is a serious issue, and I am proud of Joanna for bringing awareness to our community."