The parable of the talents in Matthew 25 teaches a multitude of lessons: the critical need to place complete trust in God, the rewards of using spiritual gifts in His service, the fulfillment that comes from completing even the smallest task with whole commitment. It is a product of the Master Storyteller with a unique interpretation for each reader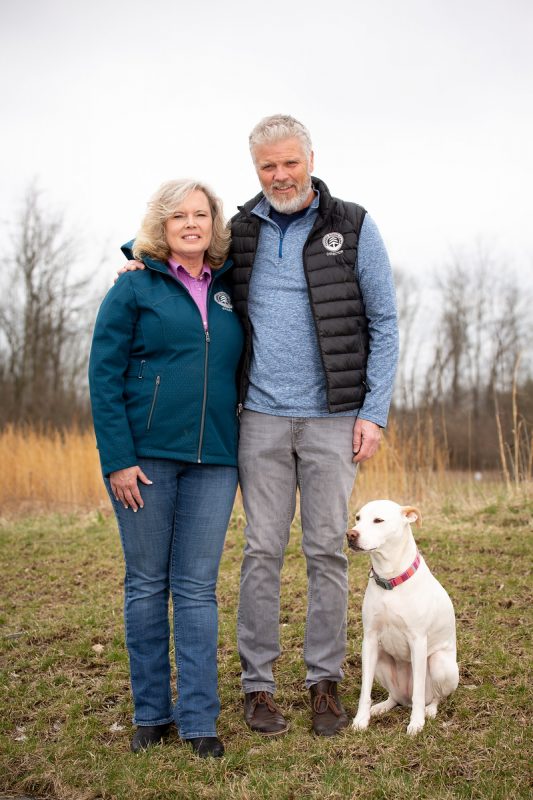 For Indiana Conference Youth director, Charlie Thompson, and his wife, Trish, the story of the talents has defined their ministry. For them, this story is not only about self-improvement, but about self-investment. It is important, they believe, not only to emulate the dutiful servant of the story, but also to follow the example of the man taking the journey, investing his life's energies in the development of others. 
When approached about this article, their immediate protest was as expected: "Don't make it about us; make it about mentorship." The thing is, it's nearly impossible to explain mentorship without talking about Charlie and Trish Thompson, whose lifework is defined by the Christ-like mentorship they have provided for countless young people through their work at Broken Arrow Ranch, a local ministry, and Timber Ridge Camp over the past three decades. 
If you approach anyone who has ever worked for them, you're going to hear a single resounding theme: When you work with the Thompsons, you have mentors, not bosses. Bosses seek to control and scrutinize in pursuit of a bottom line, but mentors like Charlie and Trish nurture, making the journey every bit as valuable as the outcome. 
Travis Stovall, camp staff at Broken Arrow Ranch in Kansas for five summers under Charlie and Trish's leadership in the early '90s, relays the epiphany that hit him after being entrusted with the directorship of the camp while Charlie was called away on staff orientation day. Without evident hesitation, Charlie turned over the reins to the young adult with confidence. Although Travis was nervous, he guided the new staffers through orientation with ease, and, like those servants awaiting their master's return in the parable, he was proud and excited to report his success to Charlie.
"Once Charlie returned, I remember the best advice he ever gave me when he said, 'Travis, our primary work is to take care of the staff. The staff are our customers. If we take care of the staff, they will always take care of the campers.'"
Charlie and Trish have been taking care of young people since they began ministry together in 1986. As for the moment when this all began, Charlie didn't hesitate in pinpointing the moment at which he wanted to do this kind of work. A person's timeline seems to be made of constellations of turning points, and the one of greatest impact for Charlie happened in a setting not unlike that of so many young people whom he would impact, years down the road. 
In the summer of 1980, Charlie was an extremely shy teenager working at Broken Arrow Ranch.  He was used to this scene: other camp staff guiding activities, leading songs, being the big personalities in the forefront, while he contentedly stayed in the background, seeking out duties that would allow him to stay safely out of the spotlight. One Sunday, as campers began to arrive, all of that changed when his camp director pulled him aside.
"Charlie," he said, looking him in the eye, "we've got a problem. We haven't hired enough counselors to cover the group coming in this week."
"Oh? That's too bad," Charlie responded.
"I need you to be a counselor," the director continued flatly.
Charlie's stomach sank. Shocked and afraid, it occurred to him to simply repeat, "Well, that's too bad!" but the look on the director's face was one of confidence and trust, so when the director instructed, "You need to head straight to Shawnee cabin. You'll have campers waiting for you in three minutes," Charlie simply plucked up his courage and went.
Sure enough, three boys were there waiting for him. But before he had time to panic, each little boy had wrapped Charlie up in a hug that said, "This is where you belong." This was the point of no return for his life working in youth ministry. 
Not even a decade later, Charlie and Trish would return to Broken Arrow Ranch as camp directors, continuing the cycle of mentorship sparked that summer in 1980. In Jan. 2001, they transitioned into ministry at Indiana Conference.
Since 2006, when I began working at Timber Ridge Camp, I've watched so many times as Charlie pulls aside that shy, withdrawn camp staff, places an empowering hand on their shoulder, looks them directly in the eye, and tells them where they're needed. More than once, that shy kid has been me. When I was just 19, Charlie placed me in charge of Timber Ridge Camp's sailing program.  I, too, felt that sinking feeling of doubt, questioning Charlie's judgment in placing so much confidence in an awkward college kid like me. But he didn't flinch, and, so, neither could I. Ten years later I can look back on that moment and recognize it with clarity as my own moment that said, "This is where you belong." Like so many others, I'm certain my path to becoming a high school teacher may not have been realized without Charlie's choice to invest his confidence in my potential.
"When I look at hiring a member of staff," Charlie explains, his voice taking on the fatherly tone those who've worked for him know so well, "I try not to look at them where they are. I try to see where they could be." This uncanny vision for potential has changed more lives than either of the Thompsons could possibly realize, and far more than could be documented here. 
Sometimes, investment of those Matthew 25 talents doesn't take the form of exclusively nurturing or time, it requires a heavy investment of faith as well. That's what mentorship is. 
Briana Payne, science teacher at Pine Tree Academy in Maine, also cites the Thompsons as pillars of influence in her path to serve youth: "Pastor Charlie set a standard for godly, grace-oriented, commissioning leadership that will forever be a reference point for me . . . He gave me opportunities to grow in my God-given talents and provided helpful feedback toward using those talents well." 
Like the human investments made by Charlie and Trish over the years, the camps and programs they've been affiliated with have grown exponentially under their care. Travis Stovall noted that over the course of two years working with the Thompsons at Broken Arrow Ranch, teen camp attendance went from totaling just 16 to nearly 150, which Travis and his fellow staff attribute wholeheartedly to Charlie and Trish's leadership. Similar results have been seen at Timber Ridge Camp, and, more importantly, within the spheres of influence of the staff and campers as well.
That's what happens when people are empowered — they grow.  And that growth is contagious. 
Another former Broken Arrow Ranch staffer, Regina Wehling Harvey, fondly remembers a fateful summer when the camp flooded, reducing the camp's usable water supply to a spring in a hillside running into a canoe.  Anxiety and discomfort were high, morale was low, and yet the Thompsons still managed to put a brave face on the situation and turn it into an adventure rather than a crisis. "The ministry that these two share has impacted many lives," Regina asserts. "They weren't afraid to be 'real' in front of us. We witnessed their struggles, hopes, dreams, and we saw their tears, laughed with them and shared many stories of God's constant love for all of us."
This is where the tenets of the Thompsons' leadership find their roots: in being "real" and becoming anchors of love for those around them. Although they may not realize it, Charlie and Trish frequently become the figures who keep the young adults who have crossed their paths grounded in faith when the rest of the world begins to go sideways. Founder of the storytelling platform, "Humans of Adventism," Kaleb Eisele, sums up their mentorship precisely: "[The Thompsons] have always been strong, safe mentors to a revolving cast of Adventist youth, myself included. Even today most of my peers who have stayed involved in Indiana church life can trace their story back to a friendship with Charlie and Trish."
When asked to define their best parts of the last 33 years, their answers were quick and simple. "You," they grinned. "All of you who realized your potential and grew with it."
Heather Reichert is entering her ninth year of teaching and loves spending her time working with teenagers at South Ripley High School in Indiana where she serves as an English teacher and drama coach. In addition to finding her passion for youth while working at Timber Ridge Camp, she also met her husband, Conrad. They are still frequent visitors to both TRC and the Thompson home.