Plus, several public evangelism campaigns bear fruit; tithe increase largest in NAD
On Nov. 13, Lake Union executive committee members voted new language on sexuality and gender language as it relates to employment.
Lake Union President Maurice Valentine explained that it's necessary for the union to create guidelines in recognition of cultural changes impacting our churches and institutions. The voted statement reads:
This institution is operated by the Seventh-day Adventist Church, and all employees are expected to abide by and support the biblical teaching of sexuality and gender as understood by the Seventh-day Adventist Church. All volunteers and [participants, campers, students, etc.] are expected to abide by and support the above position while they are representing this institution or are involved in its activities. If you have questions about what these are please contact [institution] leadership for further information.
A more in-depth policy statement is scheduled for release in spring 2020, but in the meantime, this statement was necessary so job applicants could have full knowledge about the policy and can inquire further if they have questions. The policy and other supporting documents are available at www.lakeunion.org under the "policies" tab.
President Maurice Valentine's Report
The union has $1 million for GC2020. Funds came from the General Conference, North American Division, Lake Union, local conferences, and are for reaping events and harvesting activities.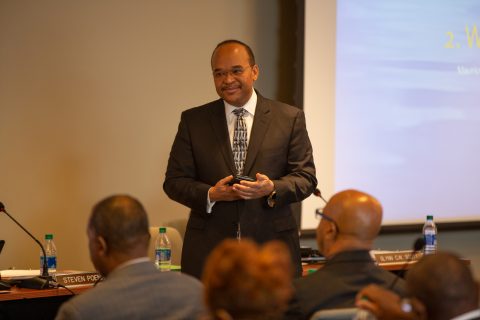 The Lucas Oil Stadium was secured for the mega health clinic coming to Indianapolis April 8-10, 2020. Thanks to Indianapolis councilman and Capitol City Church member, Joe Simpson, the fee for using the facilities (estimated to cost upward of $400,000) was waived.
Executive Secretary Steven Poenitz's Report
Baptism numbers Jan. 1, 2019 thru Sept 30, 2019 – Total 1,030
As of Sept. 30, Lake Union memberships stands at 88,630
Membership gain of 0.11%
Illinois' report on use of evangelism funds:
Held a successful women's retreat, whereby 500 people showed up. Of that number, 130 were not Adventists.
Michigan's report on use of evangelism funds:
Jesus on Prophecy evangelism meetings held across the state, starting in September. They experimented with using internet advertising. In the end, mail was the biggest way the people who attended heard of the event; social media was second and personal invitation was third.

3,000 attended, spread across 100 sites

40% of sites have so far reported and projections are for a total of 300-500 baptisms. Also, 200 people have made decision to keep the Sabbath and are still studying.
Treasurer Glynn Scott's Report
Tithe gain Year-to-date September 30, 2019, 2.33% increase.  This tithe percentage increase is the highest tithe performance across the North American Division.

Total income, $7.6 million is higher than budget, $7 million and total expenses $$6.8 million is lower than budget, $7 million.  Positive financial performance at the Lake Union level allows us to financially support our local conference in mission and ministry.

For 2019, each conference received special funding of $45,000 for the following initiatives:  $20,000 for church growth; $15,000 for proclamation evangelism; and $10,000 discipleship training.  An additional $200,000 was prorated and distributed to the five local conferences as misc. tithe / non-tithe fund.

The Lake Union Revolving Fund interest rates will be decreased as of January 1, 2020. Deposit rates move from 2% to 1.5% and loan rates move from 4% to 3.5%.
"We praise God for His blessings upon our members and their faithful stewardship to God."
Vice President/Multicultural ministry Carmelo Mercado's Report
Largest women's retreat – 1,000 attended and five women were baptized

Karen Youth camp – 400 attended
Small groups campaign named Vida GPS, launched spring 2019 across the NAD. Organizers planned for 10,000 and had 20,000. Plans are underway for next year, with a small group focus on young people.

"Journey to Healing and Understanding" which started in 2015 with the Lake Union president apology for racism in the church, continues with meetings in Indianapolis, Milwaukee and recently in Detroit. Michigan and Lake Region pastors met in Detroit, and it was "really encouraging to see. They're talking about heart issues. One millennial said what are you doing? This is trailblazing."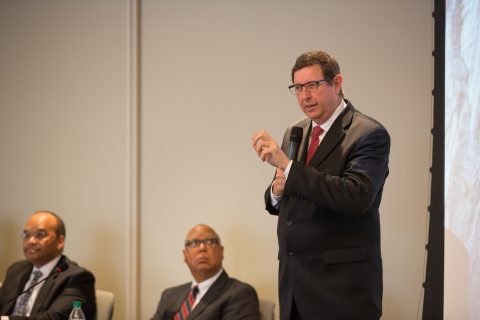 Youth Report by Youth Director Ron Whitehead
Youth Evangelism Congress – young adults talking to young adults about their lives – happens every two years. Next one is Feb. 14-16, 2020 in Shipshewana, Indiana. "This generation don't want to be spectators; they want to be participants." This is a unique event that offers cash and inspiration. "We need to be innovators and offer them ideas to do evangelism in fresh ways."

Also, offering One Year in Mission, where after GC Session, young people are invited to do missions.

Oshkosh Camporee: 55,000 gathered for Pathfinder Camporee and it became the largest reaping season in our union with over 1,000 baptisms.
.
AMITAHealth Vice President and Chief Operating Officer, Thor Thordarson's Report
All of full-time chaplains are now Adventists. All either certified or advanced in their training.

Mobile Food Pantry truck launched with 234 people benefiting from the services. This video gives further highlights: www.Vimeo.com/presencehealth/review/369875372/9be0ecbacb

Piloting a project of focusing on physician mission orientation.
During the President's Report, Indiana and Lake Region leaders gave updates:
Indiana Report by President Vic Van Schaik
A lot is taking place in advance of General Conference Session next summer. Full schedule of Ignite Indiana campaign available at https://indysda.org/ignite-indiana
8,800 members
70 churches
9 companies.
7 groups
40 pastors
41 active bible study teams statewide
Lake Region Report by President R. Clifford Jones
Shift in strategic plan for the 2018-2022 quadrennium
Last quadrennium the theme was: Christ Alone; now it is: Be Like Christ

Welcome was added to the core values (Word, Worship, Wholeness, Witness, Welcome)

Impact Indiana campaign featured a revival with evangelist Abraham Jules in Indianapolis July 27 – August 10, 2019. A group of students from Oakwood went door-to-door before to drum up support. Sixty people were baptized on Aug. 10.