After news broke that a Chicago woman who recently returned from a solo trip to China was the first person in our area confirmed to have contracted coronavirus, organizations in our area went on high alert.
The woman who had returned from Wuhan, China, the epicenter of the virus outbreak, was the second case in the U.S. She and her husband, who contracted the virus here in the U.S., were hospitalized at AMITA Health Hoffman Estates. (AMITA Health is a joint operating company, Catholic and Adventist, formed by three faith-based health systems. Hoffman Estates is not Adventist managed.)
Yesterday (Feb. 5), Wisconsin officials confirmed the first case there.
To date, almost 30,000 people worldwide contracted the virus, resulting in over 500 deaths.
AMITA Hospital issued this report: 
As the Centers for Disease Control and Prevention has announced, the spouse of a patient in our care was diagnosed with novel coronavirus has now also tested positive for the same condition. This second patient, who was in close contact with the first patient for an extended period of time, was being closely monitored by CDC and the Illinois Department of Public Health and was immediately admitted to the hospital following onset of symptoms. Both patients are being monitored in isolation at our hospital in accordance with established infection control protocols and with guidance from the CDC.

The health and safety of patients and associates are always our top priorities. We have in place strict infection control precautions and protocols established by the CDC to protect patients, associates and visitors. Our infection control specialists also work closely with the Illinois Department of Public Health.

If you'd like more information, please feel free to log onto the Illinois Department of Public Health's website at dph.illinois.gov.
Andrews University released this statement:
As the world responds to this new disease, Andrews University is committed to continuing to understand and effectively respond to this global health emergency. In particular, we want to assure that the University implements all precautions and health measures needed to help keep everyone safe in our Andrews University family.

Andrews is working directly with three students and employees who have returned to our campus following travel to mainland China in recent weeks.

That work will be informed by recent guidelines established by the Centers for Disease Control and Prevention and the U.S. Government as well as counsel from the Berrien County Health Department. Those guidelines now indicate that for travelers who have been in Wuhan or the Hubei province in the last 14 days, voluntary self-quarantine for 14 days is recommended (however, to the best of our knowledge, no one from Andrews University has traveled to that city or province in recent weeks).

The University has canceled all upcoming official travel to China in the days to come, and we will continue to take steps to assure that appropriate screening and preventative measures are being taken for students, employees or guests who are at Andrews University, and who might have also traveled to China recently.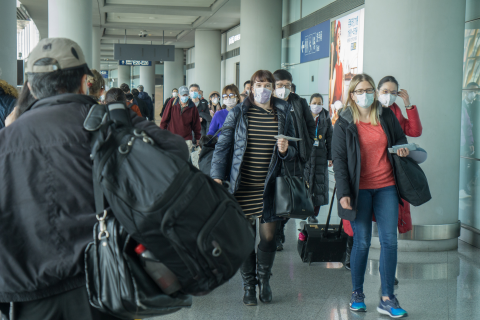 Health precautions you can take
The symptoms of 2019-nCoV can be similar to those of other common viruses like those found in cold and flu season. Precautions which can help prevent the spread of the novel coronavirus, the flu, or other viruses, include:
Wash your hands regularly with soap and water and for at least 20 seconds

If soap and water aren't available, use alcohol-based hand sanitizer

Avoid touching your face with unwashed hands

Cover your cough or sneeze with a tissue, then throw the tissue in the trash

Disinfect surfaces regularly

Avoid close contact with someone who is sick

Stay home if you are sick