Lake Region—The mother of a slain son who launched an anti-violence organization shared her testimony at the Maywood Church for their Prison Ministry Day program.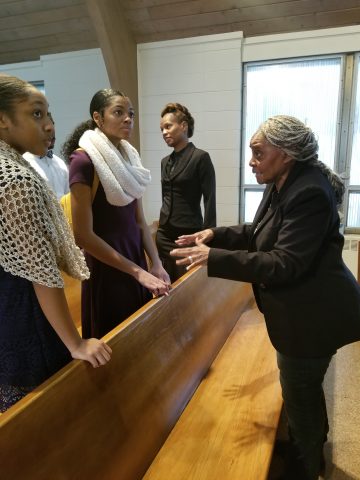 During the Dec. 1 worship service, Chicago Southside native, Phyllis Duncan, told the story of the fateful day, just two days after Mothers' Day in 2005, when her 21-year-old son, Dodavah, was shot and killed. The social worker was heartbroken and powered her grief into action, founding Mothers of Murdered Sons (MOMS). This began her journey of advocacy, public speaking, facilitating support groups, providing grief support and wellness groups to help all deal with the loss on all levels. Duncan told the congregation of her biblical healing which has allowed her to work with others suffering loss.
This Prison Ministry Day program came about because, over the last five or so years, Maywood Church has seen many of the neighborhood families suffer loss.  Its Prison Ministry leader became increasingly concerned. In collaboration with other department leaders, they decided to sponsor an initial program on dealing with loss; they also wanted to assist the church in developing resources with which to help both the community as well as the church to start dealing with their loss.
An afternoon program focused on developing community resources with our youth. Maywood's Church Youth leaders and the basketball team were present for the presentation with the church members.
Duncan's time spent with Maywood uplifted everyone and showed the biblical perspective on overcoming loss. Other guests included Edwina Perkins, mayor of Maywood [Ill.], and Dolby Knott, Lake Region Conference Prison Ministry Department leader. Perkins shared the state of Maywood and encouraged the members to utilize the programs available in the mayor's office.
We look forward to utilizing the expertise of Duncan in this year of Health and Community Engagement in the Lake Region Conference. Duncan focused on Isa 61:1‒4, with emphasis on verse four which states, For since the beginning of the world, men have not heard, nor perceived by the ear, neither hath the eye seen, O God, beside Thee, what He hath prepared for him that waiteth for Him.  Phillip Ates, Prison Ministry leader at Maywood Church and Chicagoland Men's Ministry leader, hosted the event.