INDIANA — Four years ago, members of the Evansville Hispanic Church decided they wanted to launch a new private Christian school for their church members' children and the surrounding county. 
In August 2018, their dreams came to fruition with the dedication of a newly remodeled church building that encompasses Riverview Adventist Christian Academy. 
"We're so blessed and excited for our new school!" said Paola Pizzaro, wife of Fernando Pizzaro, pastor of the Evansville Hispanic Church. Paola noted that the closest school was two-and-a-half hours away and church members were anxious for their children to receive a distinctly Adventist Christian education.
Great sacrifice from church members — who donated labor for painting, roof work, patching brickwork and donations that totaled in excess of $200,000, made it possible for the school to become a reality. Twenty students in grades five through eight are currently enrolled, under the guidance of new bilingual teacher, Vanessa Aguilar.
Fernando and Paola have worked with the Indiana Conference to plan the process of building a new facility, along with former Indiana Education superintendent, Herb Wrate; Lily Wagner, North American Division; Carmelo Mercado, Lake Union Conference; philanthropist Robert Burnette; and Richard Norris, senior pastor at Evansville First Church, as well as others. 
"We are pleased to dedicate and welcome this new school to the Adventist education school network in Indiana," said Indiana Conference superintendent of Schools, Nicole Mattson, who oversees 13 elementary schools and one academy. "This multi-grade school has a math-science focus and will offer the child a safe, loving and diverse Christ-centered environment."
The decision was made to have a focus on math and science because, statistically, Hispanics don't choose those areas for careers. "We are trying to educate them to provide more opportunities for their future," said Mattson. "Eventually, the plan is to get into dual immersion to encourage other students to attend."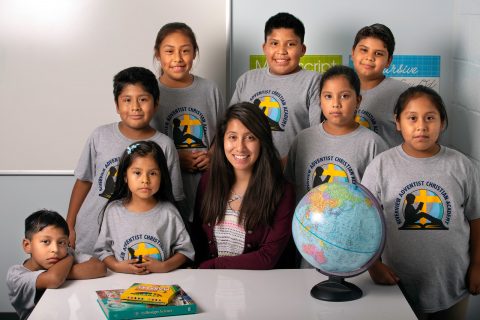 The mission of Riverview Adventist Christian Academy is to nurture the whole child spiritually, academically, physically and socially; and to educate students for service to God, their families, their church, their country and their fellow men and women. 
A dedication service was held in the school gymnasium on Sunday, Aug. 12. For more information, please visit: www.indysda.org.