Although Strong Tower Radio (STR) first went on the air on December 23, 2009, the idea of having a radio station had been percolating for quite a few years.

The actual STR story started in October, 2007 when the FCC opened a window for new frequencies. David Bolduc, who then lived in Decatur, IL, wanted one of those frequencies.

No frequencies were available, so David decided to look in Michigan where his wife grew up. He learned that 91.9 was available in Cadillac, Michigan. But there was a problem. He had only three weeks to form a board of directors, write by-laws, and file an application. The application was granted to build 91.9 FM. All they needed now was $150,000 to build the station! Later they needed call letters. WGCP was available, which fit perfectly: "Where God's Character is Proclaimed!" David and his family moved north.
 
God provided! As Jilane Fenner (Public Relations rep) says, there was one little station proclaiming the Three Angels Messages in "little ole Cadillac, Michigan."
 
But God's dream was a bit different. STR has grown to 12 radio stations and a TV station! STR now covers most of Michigan, from Lansing and Grand Rapids to the Upper Peninsula, plus Saulte Ste. Marie, Escanaba and even Ironwood. David has even seen the fulfillment of his dream for a station in Decatur, IL! 
 
As a 3ABN affiliate, STR, now has TV23 in Cadillac, which rebroadcasts 3ABN, 3ABN Latino, 3ABN Proclaim, 3ABN Kids Network, and Amazing Facts TV. STR airs a variety of programs, including sermons, music, health, and children's programing. They also produce some of their own programs. Besides 3ABN, there are shows from Life Talk, Moody Radio, Money Wise, Ranger Bill, Night Sounds, etc. 
 
The name, Strong Tower Radio, came from George Corliss who was the first Development and Program director. He said we needed a "logo" name. One day, during devotions, George came upon Proverbs 18:10 NKJV, "The name of the Lord is a strong tower; the righteous run to it and are safe."  George contributed significantly to the growth of STR Network. As God led, George would follow up wherever people said they wished for a radio station. Since STR didn't have any money, they would pray and tell others about the need.
 
A station became available in Grand Rapids. They "only" needed 1.5 million dollars to get it. A 20,000 sq. ft. Fox TV studio came up for sale on 10 acres for $466,000. George, forever optimistic, prayed with everyone, and went to work on fund raising. And God answered prayers in a big way. In 2017, STR hired Tom Mejeur to help with programming. He worked for a year under George's excellent mentoring. Sadly, after a long battle with health problems, George passed away in 2018, and Tom carries on the legacy.
 
STR now has three full-time, and two part-time employees, several dedicated, full-time volunteers, and a few part-time volunteers. God has blessed abundantly. Hundreds of listeners call in for free materials and share their testimonies. Churches in the listening area (which covers approximately five million people) are baptizing members who first heard the Truth on STR!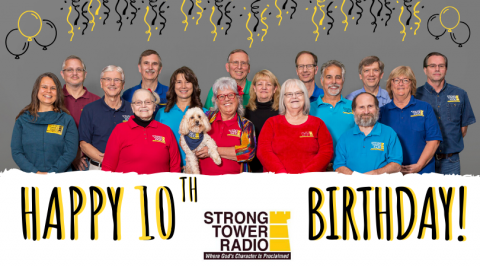 Please pray for Strong Tower Radio as it continues to grow. Currently, STR is looking to expand into the southeast and northern Michigan markets as God continues to lead as He has led for the last 10 years!

Jilane Fenner, Strong Tower Radio Public Relations and Marketing