CADILLAC, MICH., October 15, 2019 - - Some Fridays, students from the Northview Seventh-day Adventist School in Cadillac, Michigan will go door to door asking for donations throughout the greater Cadillac area in exchange for a book.

This initiative called "Magabooking" is an outreach of the Seventh-day Adventist Church. "This fundraiser not only gives the youth a chance to share wonderful family- friendly books, but also enables them to learn how to care for, pray with and be a blessing to those they meet," said Kamil Metz, director of Literature Evangelism at the Michigan Conference of Seventh-day Adventists.
Magabooking has been an outreach program for almost 150 years. With the beginning of the subscription book sales program among Seventh-day Adventists in the 1870's, the need arose for capable people to recruit and train them willing people for service. The pioneer in this important endeavor was George Albert King, the Seventh-day Adventist Church's first "magabooker." He had the idea and demonstrated that books could be sold successfully from house to house. An enthusiasm for book sales to non-Seventh-day Adventists arose from King's faithful work in this field, and the fire kindled by his effort more than a century ago has never gone out. 
"The benefits of Magabooking are for everyone," says Brenda Mejeur, principal at Northview. "We're getting books into homes that will help more people learn about Jesus, and in addition, we are getting GLOW tracts and Strong Tower Radio cards into homes too. It also helps the students that are doing it...because it provides money for worthy students and other activities."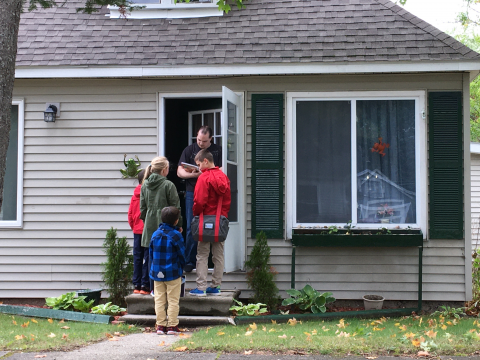 When the students were asked how it impacted them, many responded. "What I liked about Magabooking is that you get to interact with people outside your neighborhood..." said Daniel Bolduc, a 5th grade student at Northview. "I like it because it's sort of like an adventure...and you're also helping somebody who might be hurting inside," said Alex Brinzeiu, a 3rd grade student. "It was a great experience, because we get to talk to people...and tell somebody about Jesus who is truly interested," added Melania Brinzeiu, a 6th grader. Georgia Schulze, an 8th grader, also said, "I like Magabooking because it's fun to talk to people about God and to know that you might have made a difference in their life." Evangeline Schwartz, a 1st grader added, "They love it when we give them GLOW tracts!"
When people answer the door, common responses are "Wow, I really like this book. How much is it?" or "What are you fundraising for?" Most people are pleasantly surprised to hear that the books are given on a donation basis.
The books being given include Simply Fresh, a healthy cookbook, Storytime, a book with Christ-centered bedtime stories, and The Great Controversy, a book by Ellen G. White. The books are 'Magabooks' because they are magazine-sized.
Samuel Girven, Cadillac Church assistant Communication Department Secretary, age 12, under the direction of Tom Mejeur, Communications Department Secretary.