Camp Akita has always been a home away from home, a place where I have been able to experience a deeper connection to Jesus.
Being a staff at Camp Akita for the past two years has provided me with many opportunities to help the campers, staff and myself grow and have fun while being surrounded by God's beauty. I was able to experience this through being a lifeguard there; it brought me great joy when a camper would come up to the other lifeguards and myself to express how much fun they are having at the lakefront because they get to swim, reach amazing heights on the blob or get to go water tubing. Not only would the campers talk about the water activities but their previous activities like rock wall or horseback riding or archery and many other activities that are provided at Camp Akita as well.
But besides hearing about how much fun the campers were having, it also brought me great joy to get together with the campers and staff to worship and praise God through praise songs, skits and plays. I always enjoyed singing up front because I was able to see the excitement in everyone's face as well as being able to have the campers join the praise team was wonderful.
Friday nights were and still are a special time for the whole camp. It's where you really feel God's presence as you watch the beautiful sunset, and can hear everyone singing and laughing with joy. Afterwards you hear the powerful words that the pastor is saying and recognize that it truly impacts the campers. The biggest highlight is watching how God is working in their hearts as, one by one, campers express how much God means to them or that they want to give their lives to Him. I do not just see Camp Akita as a place for fun activities, but a place that the camp staff are able to witness and share the love of God. This is the goal of Camp Akita and what it stands for.
Now imagine sending your child to Camp Akita, where they are able to experience the love of God while having lots of fun engaging in ziplining, swimming, arts and crafts, horses, and much more. After a long and eventful week, you will hear the wonderful time your child had!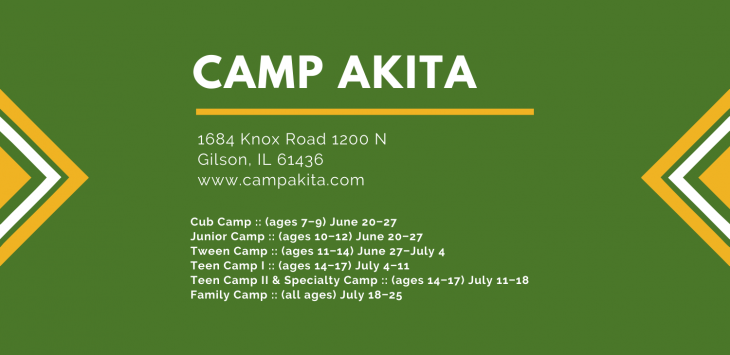 Pedro Dominguez has been staff at Camp Akita for two years and this summer is serving as waterfront director. He is a Chicago resident currently studying cybersecurity.