Every year for the last 10 years New Albany Church in Southern Indiana has presented a Christmas program, but during last month's program, members experienced something on a level not seen before—a remarkable outpouring of generosity.
Pastor Eric Freking's goal has always been to raise money for an Adventist overseas ministry, since he feels the need is greater over there than here in the U.S. He always wanted to keep funds within the Adventist Church.
Earlier this year he brought the idea to the congregation to raise money to build a water well in a poverty-stricken town. It was decided to give the money to Maranatha since they now build water wells next to their churches. "We can draw people to the well and that way they can get living water," said Joyce Blake, New Albany's church clerk.
When the campaign kicked off in August, the goal was to raise $10,000 to build one well. However, at the end of Christmas program when the funds were counted, they discovered they had raised $20,000—enough for building two wells! "There were a lot of tears shed," said Blake, a member of the congregation for 10 years. "We were happy as the Lord really blessed!"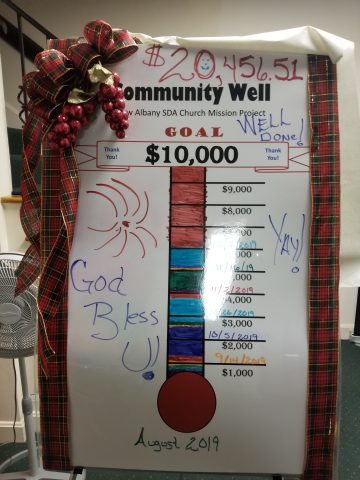 Beatriz Lopez, New Albany's health ministry director explained the incredible impact this gift of generosity will make on the impoverished community where construction of the wells is expected. "Now instead of spending all their time and energy on walking miles to get water, the people will have time to learn to read and go to school. The kids that once were lethargic from lack of water can be healthy and energetic. They will have free water to grow gardens. It's [an] amazing [opportunity]!"
Beatriz Lopez is New Albany's Health Ministry director.