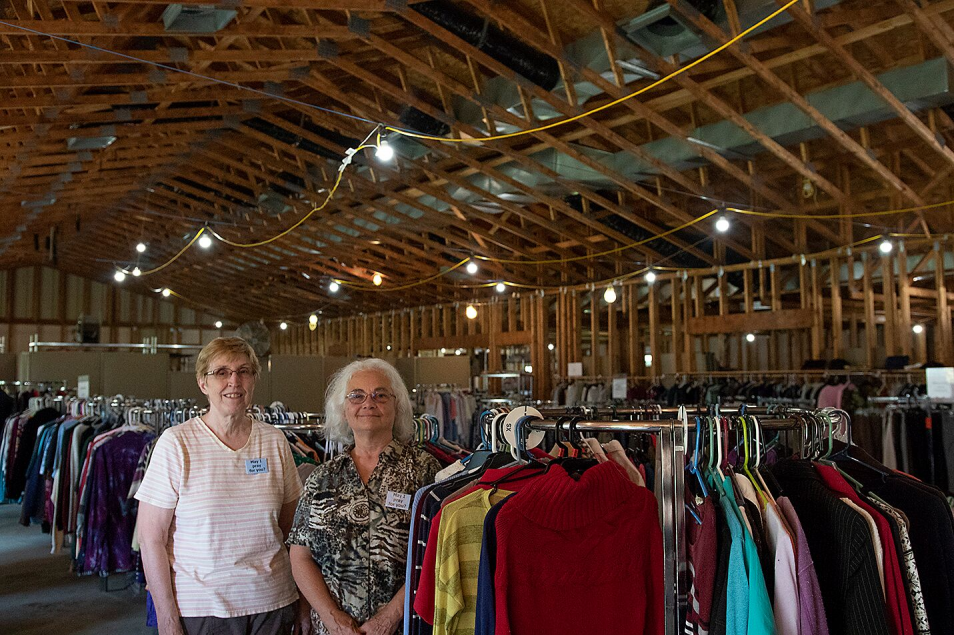 When God opens a door, no one is able to close it. That's what Linda Tuthill of the Park View Church in Galesburg, Illinois, quickly discovered, especially when it came to serving her community. It was 2014 and she'd been giving some advice to a neighboring church on outreach. Soon God would impress her heart to look a little closer to home and do a specific effort right there in her own church town.  
Linda is a big believer in prayer, so it seemed natural to bring the strong impression to her prayer partner and longtime sister in Christ, Elder Gerrie Wright. When she told Gerrie about her/God's idea of a clothing giveaway, there was no hesitation of support. Both were well aware of the growing needs in the area.
On a hot July morning, just weeks later, they started the free clothing giveaway, using a picnic table, a ping pong board, and a couple of sawhorses and rope. That first Thursday, they served 50 local families and gave away more than 700 items of clothing. From then on, they would appropriately call the service, "The Open Door."
Despite the fact they weren't sure how often they'd get donations or how they'd find the time or space to sort, display and house everything, they faithfully opened their doors every third Thursday of the month. They eventually added household items, children's toys, non-perishable food items and paper goods. Another church elder offered to build shelving. The then pastor secured commercial clothing racks from a nearby department store that was closing. More tables and shelves were donated from a well-known regional company, and the city's inspector signed off on the building they were using on church property (even though a full occupancy permit had not been obtained yet). One open door after another.
Prayer was always key. Early on, Linda and Gerrie offered to lift up the burdens of 'most anyone who came in for items. Now, they say the people have come to expect it!   
"One Thursday, I noticed a woman hanging back after she had 'shopped' for a while and we had already bagged things up for her," said Gerrie. "She finally blurted out, 'Aren't you going to pray with me?!' It was like the Holy Spirit was reminding us to get off our duffs and go about our Father's business," she chuckled.  
Long-lasting friendships with donators and their families also have been formed. After a couple of years, Linda and Gerrie received word that a woman had passed away who had provided some of the first clothes to the giveaway. Now her daughter now regularly gives. And the open doors continue.
Recently The Open Door celebrated its fourth year and there's no sign of closing. More than 2,600 local families have been served and nearly 37,000 items given away. Gerrie says, "It's amazing how this has grown — beyond anything I could've imagined!"  Linda adds, "As the prophet Isaiah says, we're called to feed the hungry and clothe the naked. We're just answering God's call." One open door at a time.