The potential to reach over 1.2 million residents, including the large metro cities of Indiana and Michigan .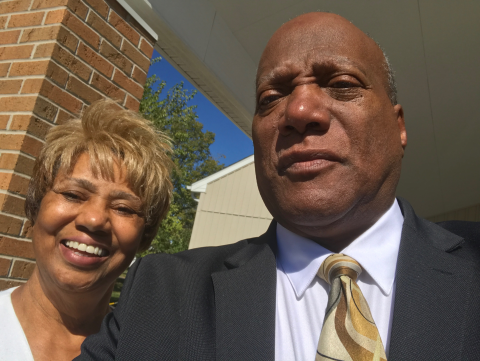 Comcast customers in Indiana and Michigan can now watch the Three Angels Broadcasting Network (3ABN).
According to Fort Wayne lay pastor, Ray Alexander, the expanded coverage gives them a potential to reach 1.2 million residents, including the large metro cities of Indiana and Michigan, was a dream in the making for some time.
In 2003, Alexander and Ken Marsh, a local elder chose and professional engineer, decided to start a low-powered radio station that would broadcast the gospel message throughout their community. After researching the process, they discovered it would cost $100,000. 
While meeting with the owner of a full-powered radio station, Alexander was moved to switch gears and focus on full-powered stations. Once again, the steep price was a huge deterrent and so he and the seller decided to pray. Alexander was stunned when the seller of the full-powered station signed it over to them at no cost. From there they received donations of many items and services to renovate their new station. 
With the new station up and running, Alexander conducted the broadcasting while Marsh worked behind the scenes as the station engineer. As time passed, the station's footprint began to grow, and they moved from broadcasting over the radio airwaves to broadcasting on television stations. 
Two weeks ago, the Comcast network announced to Alexander that they would provide space on their network to air 3ABN. "This rarely happens, said Alexander. "These are miracles that only God can do. We are just giving God the glory, honor, and praise. 
"This is an era, in which cable companies are shrinking their content in order to make room for things like, video on demand and program that is more data-driven. So, to put on another channel with high-def capabilities is really unheard of." 
 The following is a list of the new cities where 3ABN is now available on the Comcast network.
System

cls name

new disp chnl

 

MICHIGAN

ANN ARBOR

1677

 

MICHIGAN

BATTLE CREEK

1677

      

MICHIGAN

BELLEVILLE/ROMULUS

1677

      

MICHIGAN

BIRMINGHAM

1677

      

MICHIGAN

BRIGHTON

1677

      

MICHIGAN

BROOKLYN-LANSING

1677

      

MICHIGAN

BROOKLYN-TOLEDO

1677

 

MICHIGAN

CHESTERFIELD

1677

 

MICHIGAN

CLINTON

1677

 

MICHIGAN

DEARBORN

1677

 

MICHIGAN

DEARBORN HEIGHTS

1677

 

MICHIGAN

DETROIT

1677

 

MICHIGAN

DUNDEE

1677

 

MICHIGAN

EAST LANSING

1677

 

MICHIGAN

FLINT

1677

 

MICHIGAN

GRAND RAPIDS

1677

 

MICHIGAN

HAMTRAMCK

1677

 

MICHIGAN

HAZEL PARK

1677

 

MICHIGAN

HOLLAND

1677

 

MICHIGAN

HURON COUNTY

1677

 

MICHIGAN

JACKSON

1677

 

MICHIGAN

LAKE ORION

1677

 

MICHIGAN

LANSING

1677

 

MICHIGAN

MONROE

1677

 

MICHIGAN

NORTH OAKLAND

1677

 

MICHIGAN

OAK PARK

1677

 

MICHIGAN

OAKLAND COUNTY

1677

 

MICHIGAN

PLYMOUTH/CANTON

1677

 

MICHIGAN

PONTIAC

1677

 

MICHIGAN

RICHLAND

1677

 

MICHIGAN

ROSEVILLE

1677

 

MICHIGAN

ROYAL OAK

1677

 

MICHIGAN

SALINE/MILAN

1677

 

MICHIGAN

SE MICHIGAN

1677

 

MICHIGAN

SOUTHFIELD

1677

 

MICHIGAN

SUMMIT LEONI

1677

 

MICHIGAN

TAYLOR

1677

 

MICHIGAN

THR RIVERS-GRAND RAPIDS

1677

 

MICHIGAN

THR RIVERS-SOUTH BEND

1677

 

MICHIGAN

VANDALIA

1677

 

MICHIGAN

WALLED LAKE

1677

 

MICHIGAN

WAYNE

1677

 

MICHIGAN

WEST BLOOMFIELD

1677

 

MICHIGAN

WESTLAND

 

1677

 

 

 

INDIANA

ANDERSON

1677

 

INDIANA

ATTICA

1677

 

INDIANA

BEDFORD

1677

 

INDIANA

BLOOMINGTON

1677

 

INDIANA

BROWNSTOWN

1677

 

INDIANA

COLUMBUS

1677

 

INDIANA

CONNERSVILLE

1677

 

INDIANA

CRAWFORDSVILLE

1677

 

INDIANA

FORT RECOVERY

1677

 

INDIANA

FORT WAYNE

1677

 

INDIANA

FRANKFORT

1677

 

INDIANA

GREENCASTLE

1677

 

INDIANA

GREENSBURG

1677

 

INDIANA

GREENWOOD

1677

 

INDIANA

HARTFORD CITY

1677

 

INDIANA

INDIANAPOLIS

1677

 

INDIANA

KOKOMO

1677

 

INDIANA

LAFAYETTE-LAFAYETTE

1677

 

INDIANA

LAWRENCEBURG

1677

 

INDIANA

LINTON

1677

 

INDIANA

LOGANSPORT

1677

 

INDIANA

LYNN-WINCHESTER

1677

 

INDIANA

MARTINSVILLE

1677

 

INDIANA

MONTICELLO-CHICAGO

1677

 

INDIANA

MONTICELLO-INDIANAPOLIS

1677

 

INDIANA

MUNCIE

1677

 

INDIANA

NOBLESVILLE

1677

 

INDIANA

PERU

1677

 

INDIANA

PORTLAND

1677

 

INDIANA

REDKEY/DUNKIRK

1677

 

INDIANA

RICHMOND

1677

 

INDIANA

RUSHVILLE

1677

 

INDIANA

SEYMOUR

1677

 

INDIANA

SHELBYVILLE

1677

 

INDIANA

SPENCER

1677

 

INDIANA

SULLIVAN

1677

 

INDIANA

WABASH

1677

 

INDIANA

LAFAYETTE-INDIANAPOLIS

1677

 

INDIANA

LEBANON

1677