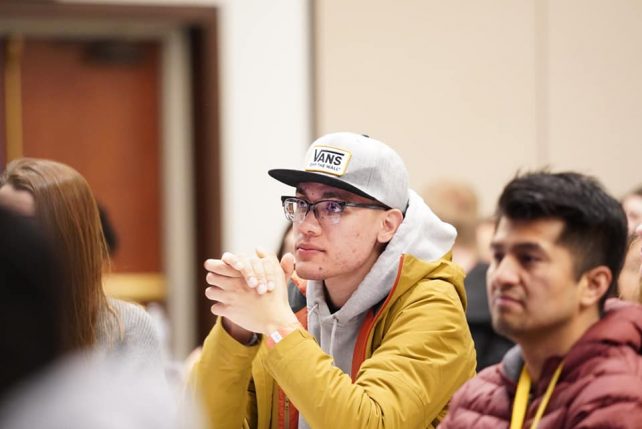 More than 200 youth and young adults attended the Lake Union Youth Evangelism Congress in Shipshewana, Ind., and were encouraged to act on the Holy Spirit's call for evangelism. This event was unique in that it is the only event of its kind in the world that provides young people with a matching fund opportunity of $100,000 (provided by the Lake Union, conferences and local churches) to make creative evangelism opportunities in their local church a reality. 
Organized by the Center for Youth Evangelism, the weekend's theme was "Courageous"; the featured keynote speaker was Justin Khoe, founder of the popular YouTube channel ThatChristianVlogger. Khoe shared his journey from literature evangelist to using YouTube as an evangelistic tool and how he built a community of almost 100,000 subscribers, despite having no media training. 
"I felt a burden to reach those who hadn't heard this gospel and thought, 'Where are my time and energies spent? What does serving my local church sound like?'" he said.  "I realize the gospel commission is to go into the world and be shared with those who haven't heard it before." 
Khoe encouraged the audience to confront their fears, saying: "Perfect love casts out fear. Living a life of courage is not rooted in your actions, but your identity. It's not something you earn . . . it's something you receive. When God speaks identity over you, that's who you are."  
Presenters also included Melissa Taylor (Indy's Art & Soul), Lilly Widdicombe (Fieldwork), Connor Nelson and Sheree Skinner (We Are Called), and Matthew Lucio (Peoria Digital Church), among others. 
Isaac Smith from Village Church in Berrien Springs, Mich., was one of the youth sponsored by their local church to attend. His goal is to help produce Village Church's podcast through interviews because he believes that God has not only called him to tell stories but to listen as well. On the final day of the conference, he shared how his life was impacted by what he had experienced. "This weekend really showed me how many other people are out there, trying to do things in their own way, and it was inspiring to feel that comradery." 
The Adventist Christian Fellowship at Purdue (ACFP) president Myles Chapman and officers Joel Taina and Adrian Calderon attended the event and decided to adopt a concept presented by Joshua Guerrero and University of Wisconsin Stevens Point ACF. With help from the Lafayette Church, they will have an ACFP Campus House to give their organization a permanent presence on Purdue's vast campus.  
"The 2020 Courageous Youth Congress has brought blessings that I didn't expect to come. I came into this weekend uncertain of the nature of future ACFP projects," said Chapman. "I left with a ministry plan and the resources needed to execute. I realize now that God provides everything we need to succeed in ministry, and that we must simply be courageous in taking steps with Him."   
Young Adult Advisory 
The Lake Union Young Adult Advisory followed on Feb. 16‒17. Mediated by youth training expert, Steve Case, a selection of young adults representing the five Lake Union conferences discussed issues important to them and provided input to youth directors and conference staff. The vote was unanimous to pilot the nine COR Church of Refuge principles (cye.org) as a tool to evaluate the condition of local churches compared with healthy Adventist churches around NAD territory.  
COR values, which are Sabbath, Discipleship, Acceptance, Community, Support, Service, Leadership, Budget and Change, is not a to-do list, an event, nor a program. It is a group of principles developed by healthy churches around the NAD territory, according to NCD research. 
The next Lake Union Youth Evangelism Congress will take place in 2022; the planned theme is "Unstoppable." 
For more images from the weekend, visit the Lake Union Youth Evangelism Congress' Facebook page. 
---
Victory Kovach, Center for Youth Evangelism Communication director