Lake Region—It's not unusual for Gloria Patterson to whisper a prayer before she meets with her patients. The Michigan Medicine University of Michigan social worker counts it a privilege to serve and is elated when patients can leave her care smiling. 
Her colleagues in the University of Michigan hospital system noticed her dedication and nominated her for the distinguished Beverly Jean Howard Award for Excellence in Social Work, which she received in May. 
Although she wasn't expecting to receive the recognition where she bested 49 other nominees in a hospital of 300 other social workers, she's humbled by the validation. "I just do my work as a child of God," she chuckled and said in a recent interview from her office. "My philosophy is: Whatever my hand finds to do, do it with all my might, my strength, all my power. I'm doing it for God." 
Patterson, who completed a Bachelor's degree in Social Work at Eastern Michigan University and a Master's in Social Work from the University of Michigan, has worked in the Adult Inpatient Psychiatric Unit, Consult Liaison Psychiatry, and Psychiatric Emergency Service at Michigan Medicine for the last 25 years. Another role she fills is field instructor at the University of Michigan's School of Social Work. 
Her manager, Laura Nitzberg, nominated Patterson for the award in past years and was delighted to see her co-worker who she terms "an outstanding social worker," winning wider admiration. "Gloria has worked so hard advocating for patients and families, providing outstanding clinical care, and providing training and instruction to trainees from all disciplines. She also has tremendous expertise negotiating the legal system and locating resources."  
Another colleague, Maria Muzik, medical director in the Department of Psychiatry, Perinatal Program, acknowledged the acclaim is well deserved because Patterson is a "rock in the social work service world." She continued, "I personally have learned so much. [She's] an amazing personification of knowledge, lived experience, compassion, dedication for the cause and kindness." 
These attributes are ones for which the Guyana native gives God all the glory and is grateful for His partnership with her in this "ministry." Patterson, who attends the Ypsilanti Church and ministers alongside her husband, Pastor Winston Patterson, said, "If we think of the three Hebrew boys, they excelled because they put God first."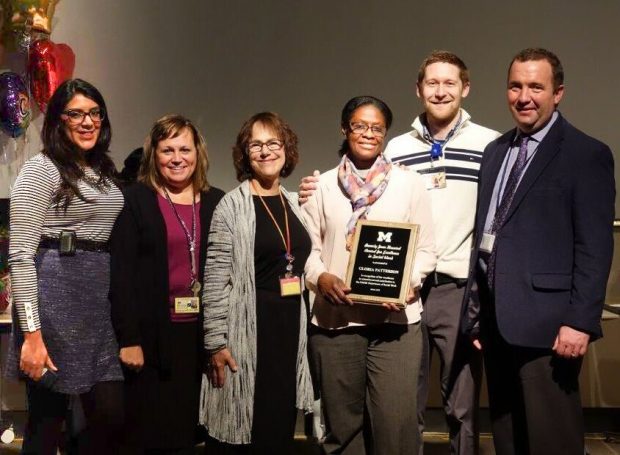 Photo caption: from left to right: social worker, Syma Khan; social worker, Kathy Voelkner; social work manager, Laura Nitzberg; Gloria Patterson; associate medical director Adult Inpatient Psychiatric Unit, Bradley Stilger; social work director, Josh Brewster. 
Photo by Erin Khang